Underground & Aboveground Tank Removal
Local Permitting
Curren will contact the local government, both construction and fire department regarding required local permits and inspections. As part of the tank project Curren Environmental will prepare and submit the necessary local permits for closure of the tank. Local permits are typically required for every underground and aboveground storage tank removal project.
State Tank Certification
Curren Environmental is certified for tank closure (removal) and for subsurface activities (soil and groundwater sampling). All necessary State permits will be applied for and obtained prior to starting any on site work activities. Curren will schedule all State required inspections.
Underground Utility Markout
As required by law, Curren will notify the applicable underground utility location service to obtain a utility mark out at the subject site. Curren will obtain a confirmation number as verification that the utility mark out was requested. Markouts take at least three (3) business days to complete. Utility markouts do not include the private portions of service lines which are the owner's responsibility to maintain. In cases where the owner is unsure of underground utility locations a private utility markout can be performed.
TANK CLOSURE/REMOVAL OVERVIEW
All Curren personnel performing tank removal activities are 40 hour OSHA trained and trained for Confined Space Entry. To ensure a safe working environment, Curren personnel will follow a health and safety plan specific to the hazards associated with the tank closure project.

The following procedures may be applicable during the project: OSHA 2226 - Excavations, OSHA, 29 CFR Part 1926, Occupational Safety and Health Standards - Excavations, OSHA, 29 CFR Part 1910, Occupational Safety and Health Standards and NIOSH "Criteria for a Recommended Standard - Working in Confined Space."
Upon arrival at the site and after completion of a tailgate safety meeting, the tank will be inspected for any remaining liquid. Any liquids found in the tank will be removed. Once all liquids are removed, Curren will uncover the buried heating oil tank by excavating all overburden soils, and/or concrete/asphalt necessary to expose the top of the Underground Storage Tank UST).
After the tank has been exposed and all the liquids removed, the UST will be purged of petroleum vapors to allow for a safe working environment. Monitoring of the atmosphere in the heating oil tank will be performed for potentially dangerous conditions such as a high flammable vapor level or a low oxygen content. If no flammable vapors are present and the tank contains sufficient oxygen, the tank will be cut open and cleaned by having a confined space entry trained technician enter the tank.
American Petroleum Institute (API) Publication 2015, "Cleaning Petroleum Storage Tanks," procedures will be followed throughout this phase of the project. Following API standards ensures that the tank is thoroughly cleaned of any residual liquid, which is required by local and state regulations. Tank cleaning will consist of wiping, squeegeeing, and removing all liquids and sludges from the tank. All liquids and sludges generated as a result of the tank cleaning process will be transported from the site to a licensed oil recycling facility.
After the tank has been cleaned, the tank will be lifted in its entirety from the ground and set above- ground adjacent to the excavation for inspection. At this time the local construction/fire official can per- form an inspection of the oil tank removal. If no holes are noted in the tank, no evidence of a release is observed in the tank grave, the excavation will be backfilled to original grade.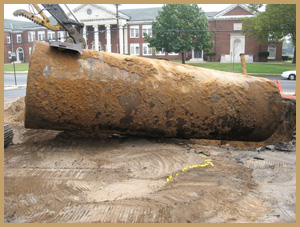 For Closure of Aboveground Storage
Tanks (ASTs), Curren follows American Petroleum Institute (API) standards, to ensure safe and proper tank decommissioning. To ensure a safe working environment, all Curren personnel performing tank removal activities are 40 hour OSHA and Confined Space Entry trained. Our multi step process consists of the following:
Submit and obtaining local permits for the removal of the AST.
Schedule the work approximately one week in advance to allow our client proper notice of the work activities
Arrive on the site on the day specified and complete a tailgate safety meeting discussing safety concerns of the project.
We then inspect the tank for liquid. Any pumpable liquids found in the tank will be removed.
After liquid removal, Curren personnel will monitor the atmosphere of the tank for potentially dangerous conditions such as a high flammable vapor level and a low oxygen content. If no flammable vapors are present and the tank contains sufficient oxygen, the tank will be cut open as per American Petroleum Institute (API) Publication 2015, "Cleaning Petroleum Storage Tanks,". Following API standards ensures that the tank is thoroughly cleaned of any residual liquid, which is required by local and state regulations. Tank cleaning will consist of wiping, squeegeeing, and removing all liquids and sludges from the tank. All liquids and sludges generated as a result of the tank cleaning process will be transported from the site to a licensed oil recycling facility.
After the tank has been cleaned, the tank will be cut into sections and removed. The fill and vent pipes will be cut and capped on both the interior and exterior of the wall, if they penetrate any walls. This is performed to ensure that no product piping is left in place. The copper supply and return lines that feed the heater will be evacuated with a vacuum and the empty lines will then be crimped on both ends and left in place.
As per the local permit obtained, at this time the local construction/fire official will perform an inspection of the tank removal. After inspection, the tank will be removed from the site.
After completion, Curren will draft a report documenting the tank closure activities and include copies of the local permit and inspection, scrap receipt and liquid manifest with the report to certify the closure was performed