Heating Oil Tank Removal & Abandonment
What is involved with removing an oil tank?
Step 1 - Local Permits
Local permits are required for the removal of residential heating oil tanks.
NJDEP Tank Closure Certification
Tank removal companies must be certified by the NJDEP. On October 2, 2006, the Department of Environmental Protection adopted special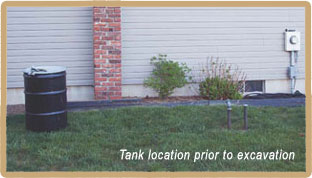 rules that require companies and individual be NJDEP UHOT (unregulated heating oil tank) certified to perform oil tank removal activities.
Step 2 - Utility Mark Out
Obtain an underground utility markout so underground utilities are located by their respective owners, such as the water company, sewer, cable, phone, electric and gas.

Step 3 - Oil Tank Removal
Uncover the buried heating oil tank by excavating all overburden soils, and/or concrete/asphalt necessary to expose the top of the buried oil tank. Most underground storage tanks are buried 2' to 3' deep (measured from grade to the top of the tank).
After the tank has been exposed (i.e., the top of the tank is visible), the oil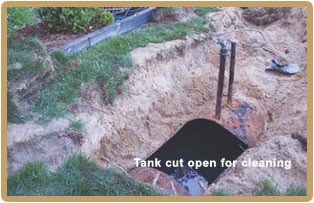 tank will be cut open. To properly clean a tank, the entry way cut in to the tank must be large enough to allow a person to enter the tank to perform the physical cleaning process. Tank cleaning will consist of wiping, squeegeeing, and removing all liquids and sludges from the tank. All liquids and sludges generated as a result of the tank cleaning process will be transported from the site to a licensed oil recycling facility.
After the oil tank has been cleaned, the tank will be lifted in its entirety from the ground and set aboveground adjacent to the excavation for inspection. At this time the local construction/fire official performs an inspection of the oil tank removal. If no holes are noted in the tank, no evidence of a petroleum release is observed in the tank grave, the excavation will be backfilled.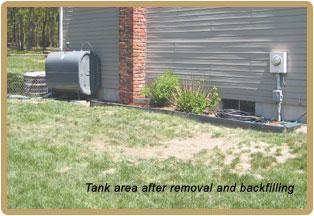 Step 4 Oil Tank Certification
After all the site work is completed a report (Tank Certification) is generated detailing the tank removal project. The report will document the heating oil tank removal and provide tank removal certification. The report will include the following information:
Copy of the local permit for tank removal

Liquid receipt from the tank cleaning.

A thorough written description of the tank removal activities.

Photo documentation of tank removal (if available).

A copy of the tank scrap receipt.

Any applicable laboratory test results.

A detailed text description of the condition of the tank and if any petroleum contamination was noted in the tank excavation.
10 Things You Need To Know About Oil Tanks
Curren Environmental, Inc. is your local, professional oil tank removal, oil tank testing and remediation contractor servicing, Atlantic, Bergen, Burlington, Camden, Cape May, Cumberland, Essex, Gloucester, Hudson, Hunterdon, Mercer, Middlesex, Monmouth, Morris, Ocean, Passaic, Salem, Somerset, Sussex, Union and Warren Counties.