What is Mold Remediation?
Mold remediation is the source removal and/or cleaning of media that is contaminated with mold. Mold consumes organic material such as wood, Sheetrock and cellulose. Long term growth of mold can degrade wood and Sheetrock which then requires removal and replacement, this is often the case with water damaged material such as carpeting, ceiling tile, Sheetrock and wood framing. When conditions are right mold will grow on the surfaces of inorganic material where a thin layer of organic material maybe present, such as HVAC ducts, concrete, furniture and even exercise equipment. Mold grows on these surface because inorganic material is present on the surface such as dust or skin cells.
Most mold remediation is not a DIY (Do It Yourself) project, simple because homeowners don't have the training or access to the necessary equipment to remediate the mold.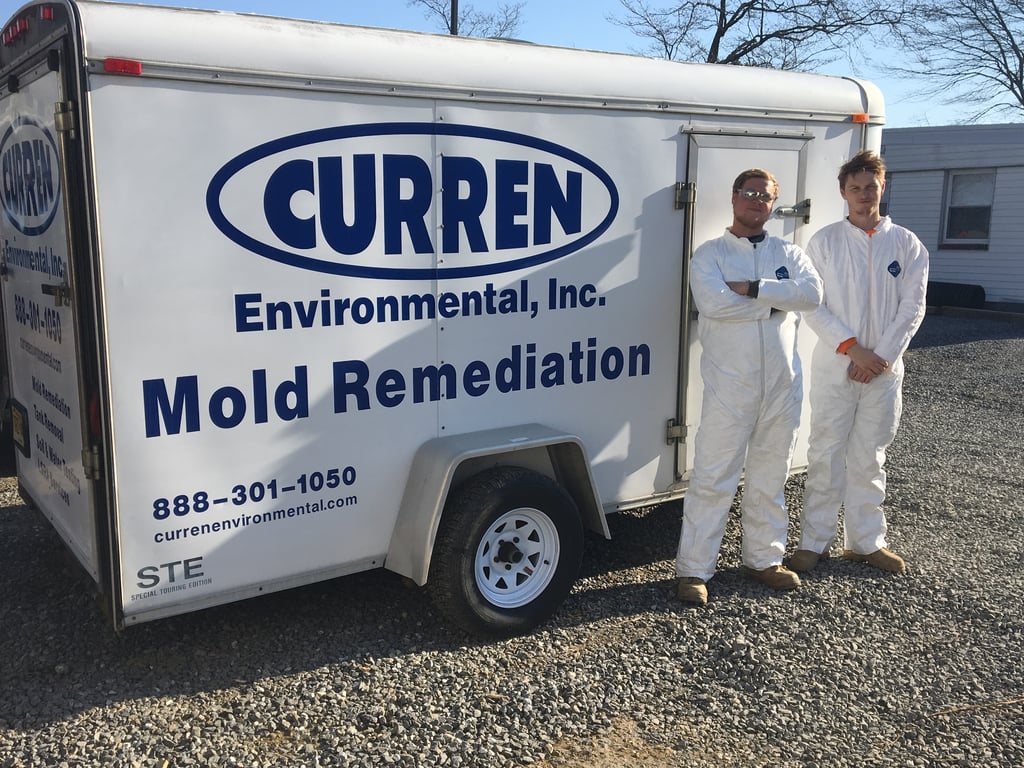 Mold remediation is often compared to asbestos abatement or asbestos remediation as the process followed to remediate both both mold and asbestos are similar. When mold remediation is performed the project starts with the containment of the contaminated area, which is performed to ensure that mold does not migrate to other non impacted rooms or areas. In finished spaces such as homes and offices, negative pressure containment is established to ensure that spores are controlled and contained.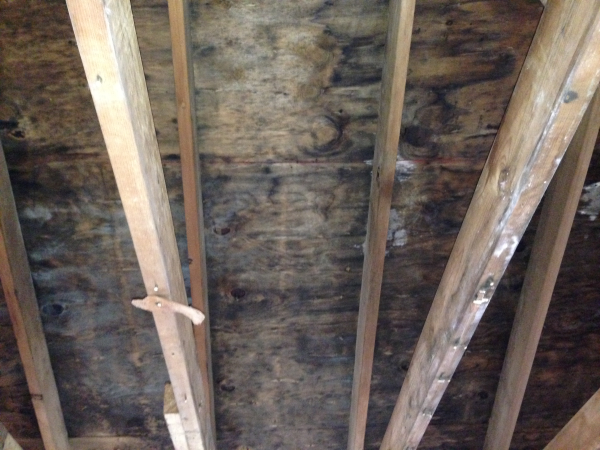 Roof sheeting contaminated with Mold BEFORE Remediation.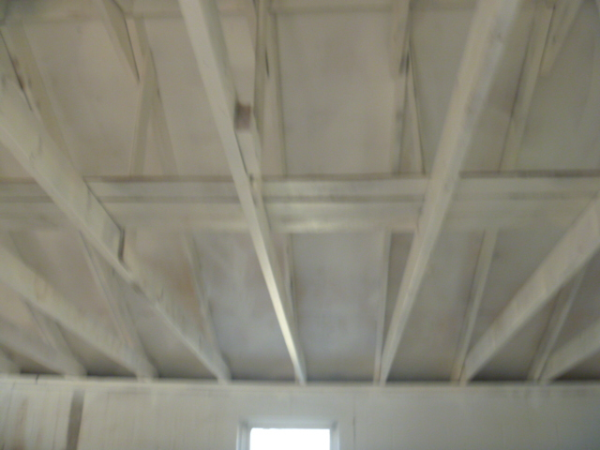 Roof sheeting AFTER Mold remediation.
If you were to list a summary of the necessary steps you could condense them into ten steps. While the completion of each step may not be necessary, you may also find that additional steps are required, this is all dependent on the area that requires remediation.
1. Seal off doors, windows, ducts, ect. in the work area from other areas of the building.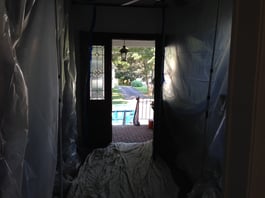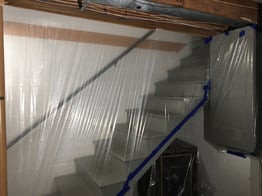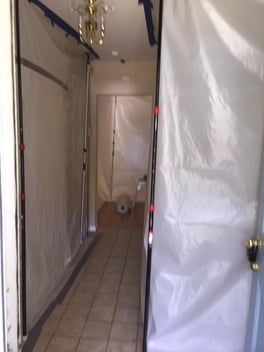 2.Establish a negative air environment utilizing HEPA air filtration. This creates a contained work environment so the mold will not spread while the remediation is occurring.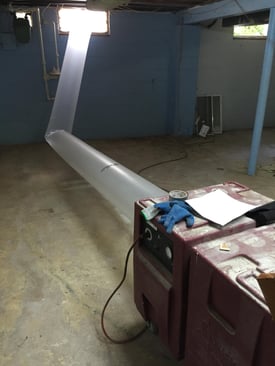 3. Ensure all workers have PPE including respiratory protection. Mold remediation can entail controlled demolition of mold impacted building materials. This can be hard work and workers are more susceptible to the air born mold spores if they do not have proper respiratory protection.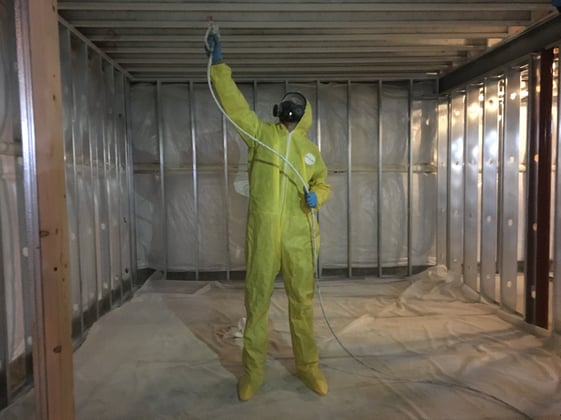 4. Hepa vacuum loose growth on impacted material. By HEPA vacuuming surfaces before demolition, you are removing the mold spores that would get airborne. For smoother surfaces, wipe with an EPA approved fungicide. This cannot be performed (Wiping ) on non smooth surfaces, which are most wood surfaces such as ceilings in attics and crawl spaces. The wood in these areas typically do not have a smooth finish so wiping is both impractical and ineffective.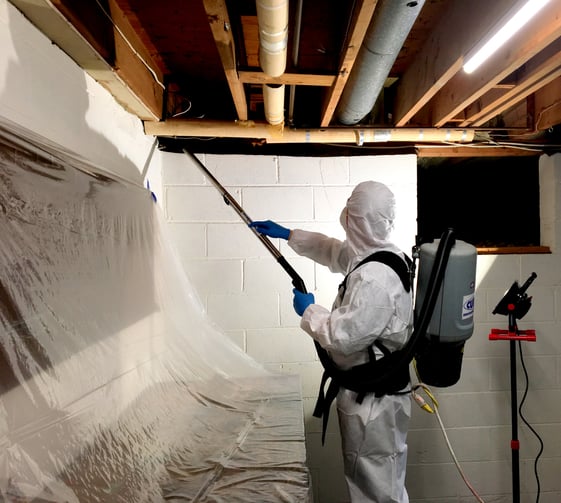 5. Remove and double bag impacted building material and contents that cannot be cleaned such as insulation and damaged Sheetrock. Bagging the material helps ensure that when mold contaminated material is removed from the work area mold spores are not spread to other clean areas.
6. Hepa vacuum each wall and floor of the rooms, including ceiling and walls. Again mold remediation is about the REMOVAL of the mold, which often times translates into a thorough cleaning of the area.
7. In conjunction with hep vacuuming a broad spectrum fungicide can be applied to all surfaces in the space. This step is performed to both ensure that cleaning was effective and to PREVENT future mold growth as the fungicide will kill remnant spores. Smooth surfaces in the space can be wiped down with the fungicide (wet wiped) such as walls, floors, ect. It is unrealistic to think that unfinished wood surfaces can be wiped down such as ceiling and rafters due to wood splintering.
8. After surfaces have been cleaned, a proactive coating is installed to organic surfaces that were previously impacted with mold. The coating is fungistatic, meaning it will inhibit FUTURE mold growth. The coating can be either clear or tinted white. The white tinted coating is by far the most popular as it is visible on surfaces coated. Anyone who has painted a room know that areas can be missed so applying a color that is distinct from the original surface color ensures that the desired area is coated. This coating will also encapsulate the porous surfaces (wood) from absorbing moisture and to kill and remaining mold spores. Re clean the walls and floor with HEPA vacuums after the encapsulate has dried.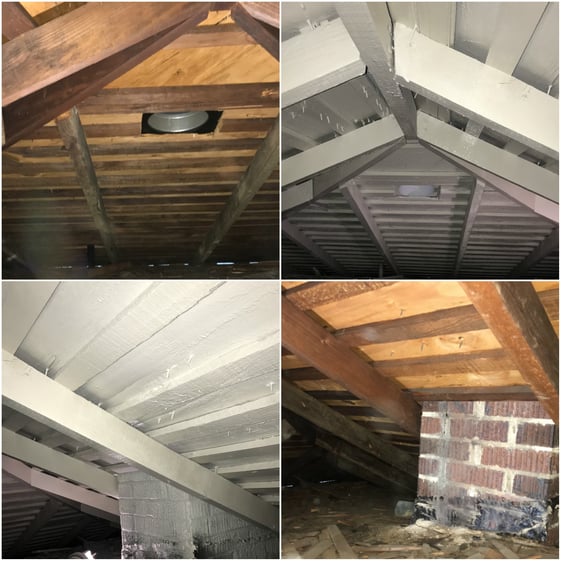 9. Remove remediation equipment and install HEPA Air Scrubbers to cleaning the work room air. This can be performed for several hours or for days AFTER remediation. The amount of time that air scrubbing is performed is based on the size of the room(s) as well as the size of the scrubber. HEPA air scrubbers filters airborne contaminants down to the size of a human blood cell. Post remedial air scrubbing is performed to help polish and air in the room remediate and to ensure that you have captured airborne mold spores.
10. Remove filtration equipment and poly barriers that were installed in STEP 1 so the space can be be reoccupied.
Mold-Frequently-Asked-Questions
Mold-Remediation-and-Inspection-
/how-to-interpret-mold-test-results
Successful mold remediation includes both the removal of the mold as well as finding the source of the moisture that caused the mold growth. An often overlooked portion of any mold remediation is the evaluation of what caused the mold growth in the first places and the application of measures to prevent the situation from reoccurring. Simple put, define what was the moisture source (many times it is sources) and remedy the cause.
Curren Environmental has been performing professional environmental servies since 1998. Theses are some of the areas Curren has worked:
Absecon, Adelphia, Allamuchy, Allendale, Allenhurst, Allentown, Allenwood, Alloway, Almonesson, Alpine, Andover, Annandale, Asbury, Asbury Park, Atco, Atlantic City, Atlantic Highlands, Audubon, Augusta, Avalon, Avenel, Avon By The Sea, Baptistown, Barnegat, Barnegat Light, Barrington, Basking Ridge, Bayonne, Bayville, Beach Haven, Beachwood, Bedminster, Belford, Belle Mead, Belleville, Bellmawr, Belmar, Belvidere, Bergenfield, Berkeley Heights, Berlin, Bernardsville, Beverly, Birmingham, Blackwood, Blairstown, Blawenburg, Bloomfield, Bloomingdale, Bloomsbury, Bogota, Boonton, Bordentown, Bound Brook, Bradley Beach, Branchville, Brick, Bridgeport, Bridgeton, Bridgewater, Brielle, Brigantine, Broadway, Brookside, Browns Mills, Budd Lake, Buena, Burlington, Butler, Buttzville, Caldwell, Califon, Camden, Cape May, Cape May Court House, Cape May Point, Carlstadt, Carteret, Cedar Brook, Cedar Grove, Cedar Knolls, Cedarville, Changewater, Chatham, Chatsworth, Cherry Hill, Chester, Clark, Clarksboro, Clarksburg, Clayton, Clementon, Cliffside Park, Cliffwood, Clifton, Clinton, Closter, Collingswood, Cologne, Colonia, Colts Neck, Columbia, Columbus, Cookstown, Cranbury, Cranford, Cream Ridge, Cresskill, Crosswicks, Dayton, Deal, Deepwater, Deerfield Street, Delaware, Delmont, Demarest, Dennisville, Denville, Dividing Creek, Dorchester, Dorothy, Dover, Dumont, Dunellen, East Brunswick, East Hanover, East Orange, East Rutherford, Eatontown, Edgewater, Edison, Egg Harbor City, Egg Harbor Township, Elizabeth, Elmer, Elmwood Park, Elwood, Emerson, Englewood, Englewood Cliffs, Englishtown, Essex Fells, Estell Manor, Ewan, Fair Haven, Fair Lawn, Fairfield, Fairton, Fairview, Fanwood, Far Hills, Farmingdale, Flagtown, Flanders, Flemington, Florence, Florham Park, Fords, Forked River, Fort Lee, Fort Monmouth, Fortescue, Franklin, Franklin Lakes, Franklin Park, Franklinville, Freehold, Frenchtown, Garfield, Garwood, Gibbsboro, Gibbstown, Gillette, Gladstone, Glassboro, Glasser, Glen Gardner, Glen Ridge, Glen Rock, Glendora, Glenwood, Gloucester City, Goshen, Great Meadows, Green Creek, Green Village, Greendell, Greenwich, Grenloch, Hackensack, Hackettstown, Haddon Heights, Haddonfield, Hainesport, Haledon, Hamburg, Hammonton, Hampton, Hancocks Bridge, Harrington Park, Harrison, Harrisonville, Hasbrouck Heights, Haskell, Haworth, Hawthorne, Hazlet, Heislerville, Helmetta, Hewitt, Hibernia, High Bridge, Highland Lakes, Highland Park, Highlands, Hightstown, Hillsborough, Hillsdale, Hillside, Ho Ho Kus, Hoboken, Holmdel, Hopatcong, Hope, Hopewell, Howell, Imlaystown, Ironia, Irvington, Iselin, Island Heights, Jackson, Jersey City, Jobstown, Johnsonburg, Juliustown, Keansburg, Kearny, Keasbey, Kendall Park, Kenilworth, Kenvil, Keyport, Kingston, Lafayette, Lake Hiawatha, Lake Hopatcong, Lakehurst, Lakewood, Lambertville, Landing, Landisville, Lanoka Harbor, Lavallette, Lawnside, Layton, Lebanon, Ledgewood, Leeds Point, Leesburg, Leonardo, Leonia, Liberty Corner, Lincoln Park, Lincroft, Linden, Linwood, Little Falls, Little Ferry, Little Silver, Little York, Livingston, Lodi, Long Branch, Long Valley, Longport, Lumberton, Lyndhurst, Lyons, Madison, Magnolia, Mahwah, Malaga, Manahawkin, Manasquan, Manchester Township, Mantoloking, Mantua, Manville, Maple Shade, Maplewood, Margate City, Marlboro, Marlton, Marmora, Martinsville, Matawan, Mauricetown, Mays Landing, Maywood, Mc Afee, Medford, Mendham, Merchantville, Metuchen, Mickleton, Middlesex, Middletown, Middleville, Midland Park, Milford, Millburn, Millington, Milltown, Millville, Milmay, Mine Hill, Minotola, Mizpah, Monmouth Beach, Monmouth Junction, Monroe Township, Monroeville, Montague, Montclair, Montvale, Montville, Moonachie, Moorestown, Morganville, Morris Plains, Morristown, Mount Arlington, Mount Ephraim, Mount Freedom, Mount Holly, Mount Laurel, Mount Royal, Mount Tabor, Mountain Lakes, Mountainside, Mullica Hill, National Park, Navesink, Neptune, Neshanic Station, Netcong, New Brunswick, New Egypt, New Gretna, New Lisbon, New Milford, New Providence, New Vernon, Newark, Newfield, Newfoundland, Newport, Newton, Newtonville, Norma, Normandy Beach, North Arlington, North Bergen, North Brunswick, Northfield, Northvale, Norwood, Nutley, Oak Ridge, Oakhurst, Oakland, Oaklyn, Ocean City, Ocean Gate, Ocean Grove, Ocean View, Oceanport, Oceanville, Ogdensburg, Old Bridge, Oldwick, Oradell, Orange, Oxford, Palisades Park, Palmyra, Paramus, Park Ridge, Parlin, Parsippany, Passaic, Paterson, Paulsboro, Peapack, Pedricktown, Pemberton, Pennington, Penns Grove, Pennsauken, Pennsville, Pequannock, Perrineville, Perth Amboy, Phillipsburg, Picatinny Arsenal, Pine Beach, Pine Brook, Piscataway, Pitman, Pittstown, Plainfield, Plainsboro, Pleasantville, Pluckemin, Point Pleasant Beach, Pomona, Pompton Lakes, Pompton Plains, Port Elizabeth, Port Monmouth, Port Murray, Port Norris, Port Reading, Port Republic, Pottersville, Princeton, Princeton Junction, Quakertown, Quinton, Rahway, Ramsey, Rancocas, Randolph, Raritan, Readington, Red Bank, Richland, Richwood, Ridgefield, Ridgefield Park, Ridgewood, Ringoes, Ringwood, Rio Grande, River Edge, Riverdale, Riverside, Riverton, Rochelle Park, Rockaway, Rocky Hill, Roebling, Roosevelt, Roseland, Roselle, Roselle Park, Rosemont, Rosenhayn, Rumson, Runnemede, Rutherford, Saddle Brook, Saddle River, Salem, Sayreville, Schooleys Mountain, Scotch Plains, Sea Girt, Sea Isle City, Seaside Heights, Seaside Park, Secaucus, Sergeantsville, Sewaren, Sewell, Shiloh, Short Hills, Shrewsbury, Sicklerville, Skillman, Somerdale, Somers Point, Somerset, Somerville, South Amboy, South Bound Brook, South Dennis, South Hackensack, South Orange, South Plainfield, South River, South Seaville, Sparta, Spotswood, Spring Lake, Springfield, Stanhope, Stanton, Stewartsville, Stillwater, Stirling, Stockholm, Stockton, Stone Harbor, Stratford, Strathmere, Succasunna, Summit, Sussex, Swartswood, Swedesboro, Teaneck, Tenafly, Tennent, Teterboro, Thorofare, Three Bridges, Titusville, Toms River, Totowa, Towaco, Township Of Washington, Tranquility, Trenton, Tuckahoe, Tuckerton, Union, Union City, Vauxhall, Ventnor City, Vernon, Verona, Vienna, Villas, Vincentown, Vineland, Voorhees, Waldwick, Wallington, Wallpack Center, Wanaque, Waretown, Warren, Washington, Watchung, Waterford Works, Wayne, Weehawken, Wenonah, West Berlin, West Creek, West Long Branch, West Milford, West New York, West Orange, Westfield, Westville, Westwood, Wharton, Whippany, Whitehouse, Whitehouse Station, Whitesboro, Wickatunk, Wildwood, Williamstown, Willingboro, Windsor, Winslow, Wood Ridge, Woodbine, Woodbridge, Woodbury Heights, Woodcliff Lake, Woodstown, Wrightstown, Wyckoff, Zarephath