How Much Does an
Oil Tank Removal Cost in New Jersey?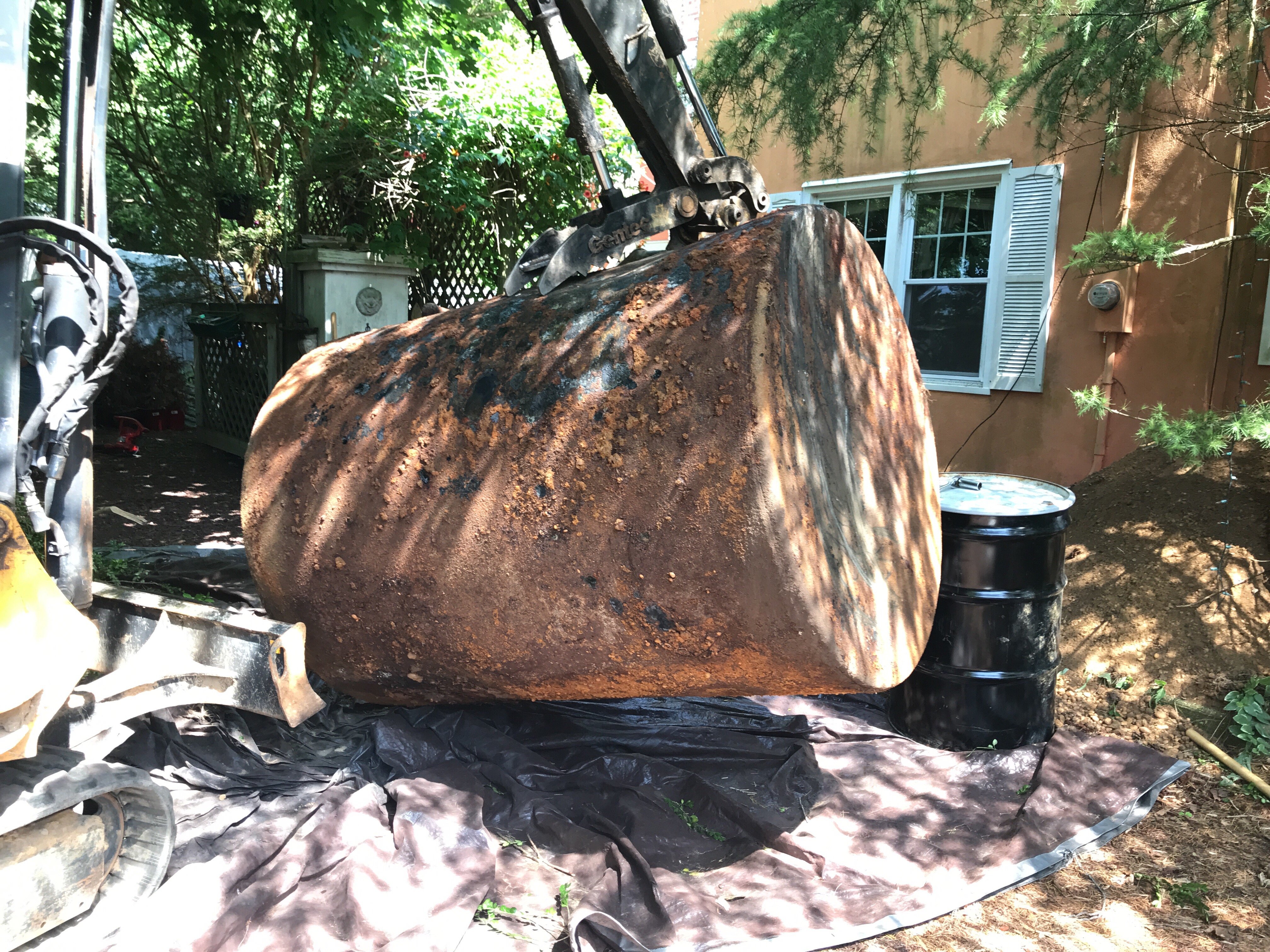 Curren Environmental has been around for over 25 years and we are licensed to remove tanks in NJ, DE & PA, needless to say, we have removed thousands of tanks.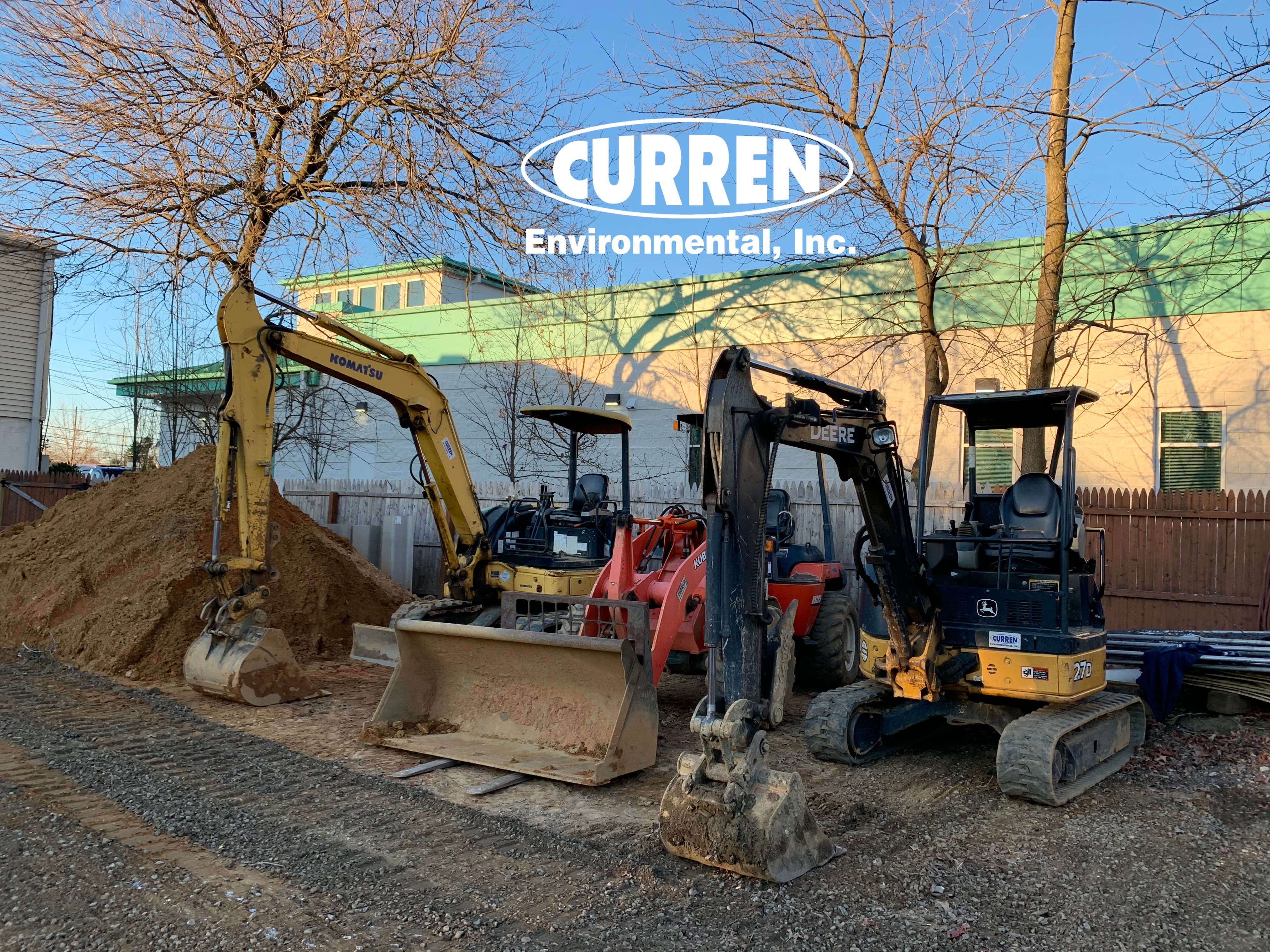 The average cost for the removal of an Aboveground Storage Tank (AST) is $1,000.00. Access to the tank and liquid remaining will affect the price.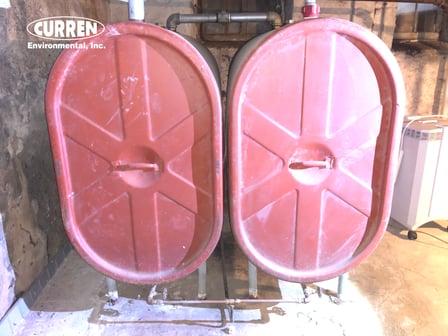 The photo below is a crawl space tank about 60' from a Bilco door, we needed to crawl to the tank area. A job like this would be more costly than a tank that you can walk up to.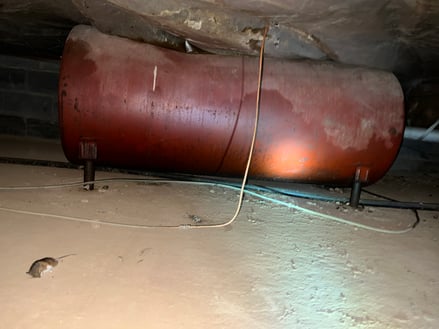 The typical cost for removing a heating oil Underground Storage Tank (UST) including labor and soil sampling is $1,600 to $2,000. The amount of liquid present, local permit fees and access to the tank are factors that will adjust the price. Say the tank is buried under concrete, well there will be additional labor, concrete cutting blades and of course offsite disposal of the concrete. Some municipalities charge over $100 for permits, many are below $100.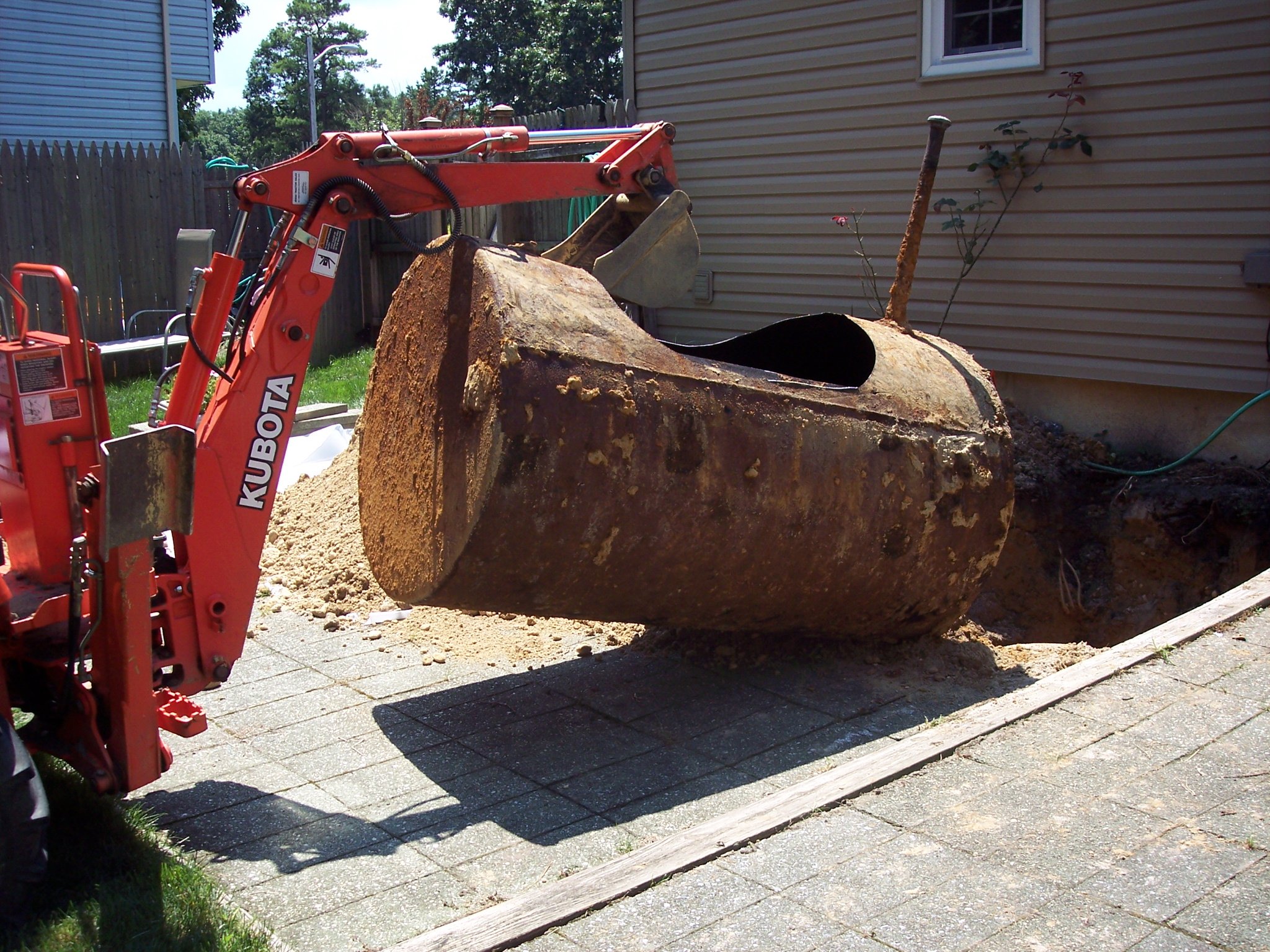 This job was under a paver patio. There is time to remove and reset the patio, which adds cost. Costs you would not have if the tank was under mulch.
Soil sample laboratory analysis for a heating oil UST cost $130.00/each on average. The number of soil samples required depends on tank size and if the tank has leaked or not.
Two (2) samples, not including a project manager to write a final report adds $260 to a tank removal. If you compare costs for tank removal and you see a difference in price, the lowest price typically won't include a report or soil testing.
The Best is not cheap
The cheapest is not best
At Curren we provide ourselves of explaining in detail (when you call) and in writing (proposals) regarding what will be done. we also discuss the WHAT IF THE TANK LEAKED.
Speak to a live person Monday to Friday
888-301-1050
Pro Tips
The cheapest company is the one that wants to find a leaking tank and sell you a $10,0000 remediation, that is an honest fact from our experience.
The most common warning signs we find in tank removal contracts we review after someone hires a different company to remove their tank and feel they are being taken advantage will include some or all of the following:
No report is included in the contract. Meaning they don't need to give you a report telling you the tank didn't leak they want to tell you it did leak and you must remediate.
No soil samples included in contract. How are they going to tell you the tank did not leak or if it did leak oil levels are within standard if no lab testing is completed? They can't.
Lastly the contract is not charging for variable costs. They charge nothing if liquid is inside tank, or tank is filled with sand no extra charge. People these are warning signs oil, water, sludge all that stuff inside the tank cost money to recycle. They give it away to find a leak. Tank filled with sand, 100% illegal to reuse that material to backfill the tank after removal. Sounds crazy but it's an environmental code requiring virgin clean fill and the oil tank is not a virgin (that NJDEP saying that not us). It also takes more time and labor to extract this material, if they don't charge at least a $1 more it's because they want to hook you.
We own our own equipment and don't subcontract, our cost of doing business shouldn't be much different from other companies, we make a fair margin (we also drive Fords). When we get a phone call from people who had their tank removed and the company is telling them they need an expensive remediation we see a common theme. No soil sampling, no report of the removal explaining why remediation is required and a cost of $1,450 for tank removal, plus or minus. Word to the wise every tank removal can be a leaking tank removal, if the company doesn't clearly express the possibility of a tank leak IN DETAIL, beware.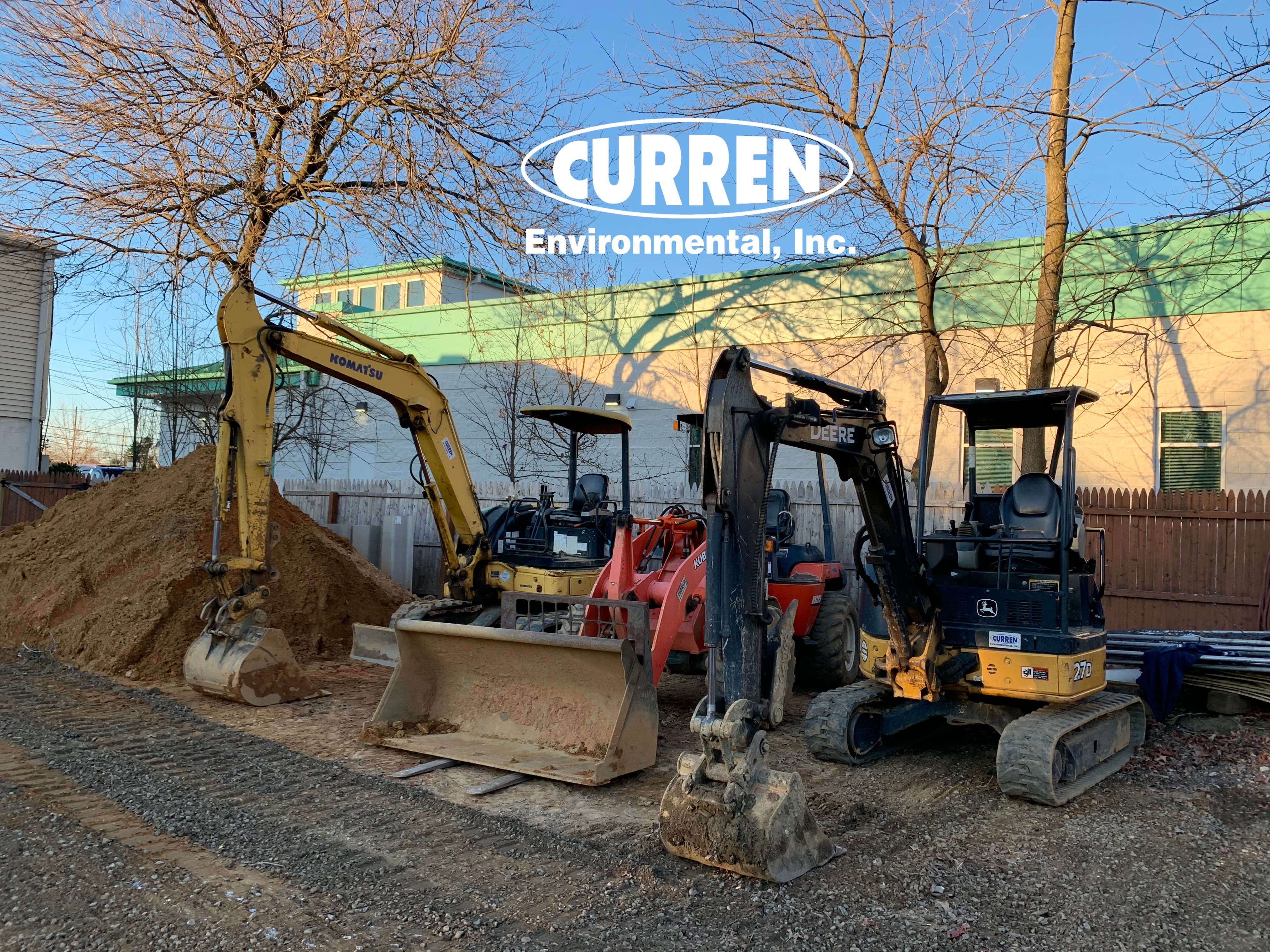 The hidden cost of any tank removal is when you find you have a leaking tank. A leaking tank is a completely different project and many times more expensive. If you are obtaining costs to remove a tank, the company should also freely discuss the dark side of a tank leak and what would happen. If they don't, they want to offer a cheap tank removal to get an expensive remediation, if you need it or not, simple because they didn't discuss the possibility of an oil leak is grounds for concern.
Pro Tip
Your tank leaks, you then obtain 5 samples for up to 500 gallons or 6 soil samples for a 1000-gallon tank. All samples can have oil in them, but if levels are below 5300 ppm, you can avoid remediation. This costs SIGNFICANTLY less than even a small remediation. If fact, we do hundreds of tanks resamples every year because the tank removal company said it was a waste of money to test soil. Yep, millions of dollars are saved every year because we are ethical.
You want expert advice, you hire experts. With over 25 years of experience, thousands upon thousands of completed projects, Curren Environmental are the professionals you can rely upon
Call the Experts
888-301-1050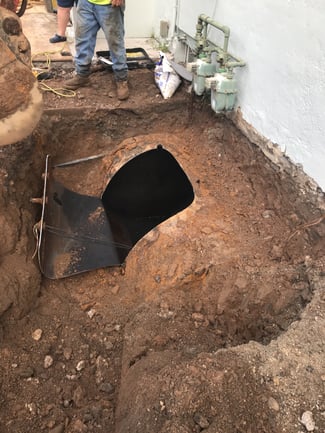 Learn More by Clicking a Link
Oil Tank Removal & Abandonment
Oil Tank Frequently Asked Questions
Licensed in New Jersey, Delaware & Pennsylvania.

All work is completed by in-house staff with our own equipment.

Curren Environmental has completed thousands of projects.