Aboveground Storage Tank (AST) and Industrial Tank Cleaning
Curren Environmental, Inc. (Curren) provides Aboveground Storage Tank (AST) cleaning and industrial cleaning services for a variety of AST sizes and configurations. Our field crews are experienced in chemical and petrochemical waste tank cleaning and closures. We can provide a clean, gas-free tank regardless of tank size, liquid/solid quantity or viscosity.
Our crews are well versed in and strictly follow OSHA, 29 CFR Part 1910, Occupational Safety and Health Standards, NIOSH "Criteria for a Recommended Standard – Working in Confined Space" and applicable API procedures.
Our tank & industrial cleaning services inclu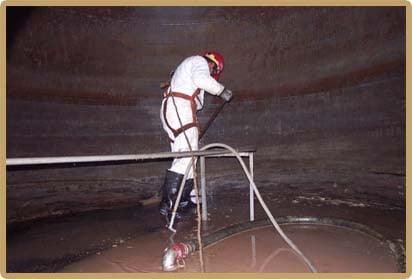 de:
Frac Tank Cleaning

Process Vessel & Line Cleaning

Tank Product Change-Overs (#6 oil to #2 oil, HazardousWaste to Non-hazardousWaste)

Helping Companies for American Petroleum Institute (API) 653 Inspections

Tank Closure/Decommissioning Projects

Pits and Oil Water Separator Cleaning
Our cleaning service clients have included crude oil tank farms, petroleum refineries, power generating facilities, chemical companies, manufacturing facilities and transportation companies as well as a variety of industrial facilities.
Contact Us
To speak to someone immediately contact 888-301-1050
Monday to Friday 8:00 am to 5:00 pm EST.