Pennsylvania Oil Tank Removal
At Curren Environmental we have over 25 years' experience with tanks. Curren is a trusted source in both large and small tank removals, tank testing and tank remediation. We provide tank services to both residential and commercial clients and being a full-service firm, we can perform tank testing, tank closure in place (tank abandonment), tank removal and remediation when needed.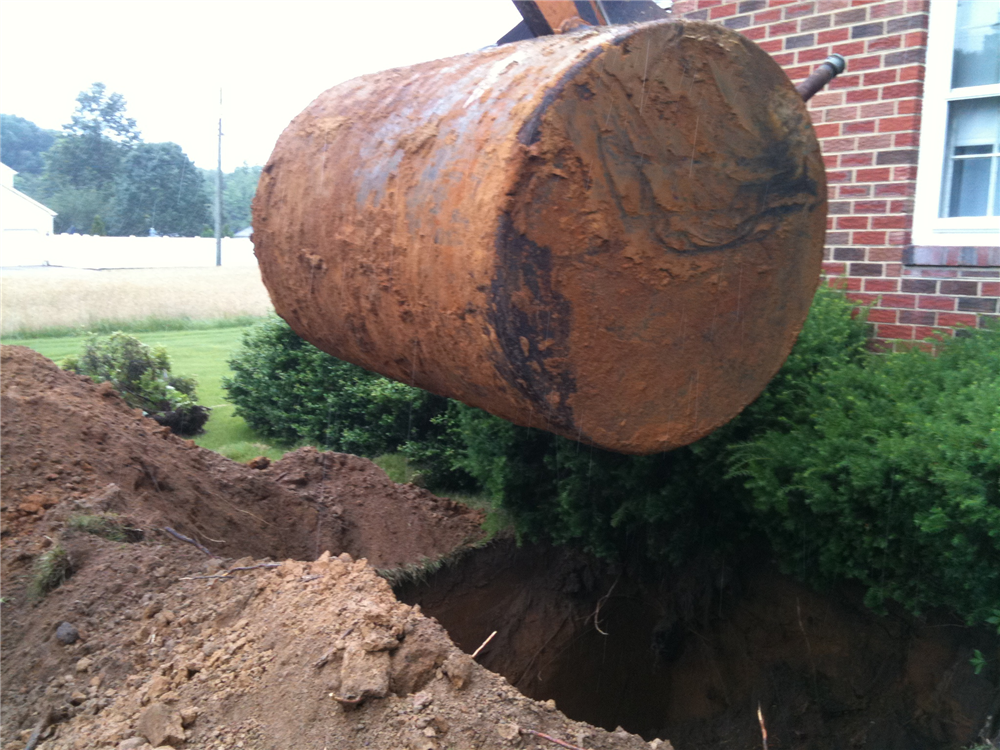 Our goal is to help guide our clients through the tank removal process. We manage your expectations in detailing the various scenarios you may encounter in removing an oil tank in Pennsylvania, including understanding what constitutes a tank leak, why soil sampling at time of removal can save you thousands of dollars later, is clearly explained so that clients can make informed decisions.
Removing an oil tank is considered or should be considered a replacement of an expendable item. Much like a roof can wear out, so can a tank. A good rule to follow is if a roof was replaced so should the tank.
Free Consultation
888-301-1050
A brief overview of the tank removal process is as follows:
Apply for and obtain local construction permit for the tank removal.

As required by law, notify the Pennsylvania "ONE CALL SYSTEM" to obtain a utility markout at the subject site.

During site activities the

tank will be excavated (overburden asphalt will be excavated and removed from the site), the tank cut open, entered and cleaned of residual oil.

After tank removal, soil sampling, two soil samples submitted to a PADEP certified laboratory and analyzed for EPA Method 8260B/5035.

After inspection of the tank and excavation and collection of appropriate soil samples, the excavation is backfilled to fill the void created by the removal. As a unit of reference, a 500 gallon UST requires 2.5 cubic yards of fill.

The tank and liquids are removed from the tank and then transported off site for recycling.

The final step and one many firms fail to provide is the preparation of a

prepare a tank closure report. The report will detail the tank closure activities and provide certification of the tank closure.

The report provides a detailed explanation of the tank closure activities performed including laboratory analytical data (if obtained) in relation to current PADEP soil standards and includes pertinent information including copies of local permits and waste manifest. In short, the report is a narrative with documentation of the tank removal project. The report will provide evidence that the tank was removed. This report is what the future purchaser of the home will want.
The Northeast United States has the longest history and one of the highest usage history of oil heat in the United States. Pennsylvania has a long history oil heat usage, which after the oil embargo of the 1970's saw a decline and a rise of natural gas. So oil tanks should be expected to be found on older sites.
Since the 1990's Curren has completed tank related work Pennsylvania, both commercial and residential. We have a proven track record where we have shown our clients that remediation is not always necessary, even when a tank is found to be leaking.
Things to Consider Regarding O

il

Tank Removal in Pennsylvania,

Remember
When evaluating a tank removal scope be sure that a written report is included in the cost. Every property that has a tank removed should receive a report that documents what was performed. This report is typically requested in any property real estate transaction, so why wouldn't you want one?

Make sure soil sampling costs are detailed as well as what levels of petroleum are permissible. Remember not every tank leak requires expensive remediation, the PADEP only requires remediation when petroleum levels exceed the Statewide Health Standards.

Oil tanks can leak, this possibility and the next steps should be discussed.

There are permissible amount of petroleum that can be left in the ground.

Soil testing for an oil tank in Pennsylvania consist of Pennsylvania Short List – Diesel Fuel / Fuel Oil No. 2 by EPA Method 8260C per Table IV-9 of the PADEP Storage Tank Program Guidance Section IV (PADEP 253-0300-100), last revised March 18, 2008. Soil to Groundwater Pathway Residential Standard.

Benzene: (PADEP Standard is 0.5 ppm)
Ethylbenzene: (PADEP Standard is 70 ppm)
Isopropylbenzene(Cumene): (PADEP Standard is 600 ppm)
MTBE: (PADEP Standard is 2 ppm)
Naphthalene: (PADEP Standard is 25 ppm)
Toluene: (PADEP Standard is 100 ppm)
1,2,4- Trimethylbenzene: (PADEP Standard is 8.4 ppm)
1,3,5- Trimethylbenzene: (PADEP Standard is 74 ppm)

*Exceedance of any of the eight compounds indicates petroleum levels are above PADEP residential soil standards.
We service all of Southeastern Pennsylvania including Philadelphia, Bucks, Chester, Montgomery, Delaware, Lehigh and Berks Counties.
Oil tank removal and testing in Arcola, Ardmore, Aston, Audubon, Berwyn, Bensalem, Birchrunville, Bridgeport, Bristol, Brookhaven, Broomall, Bryn Mawr, Buckingham Chadds Ford, Chalfont, Chester, Chester Heights, Chester Springs , Cheyney, Clifton Heights, Collegeville, Concordville, Conshohocken Crum Lynne, Darby, Devault, Devon, Downingtown, Doylestown, Drexel Hill, Eagleville, Edgemont, Essington, Exton, Fairless Hills, Fairview Village, Feasterville, Folcroft, Folsom, Gladwyne, Glen Mills, Glen Riddle Lima, Glenolden, Gradyville, Haverford, Havertown, Holmes, Immaculata, Kennett Square, Kimberton, King of Prussia, Lahaska, Lansdowne, Lenni, Lionvill, Lyndell, Malvern, Marcus Hook, Media, Mendenhall, Merion Station, Mont Clare, Morton, Narberth, Newtown Square, New Hope, Norristown, Norwood, Oaks, Paoli, Phoenixville, Philadelphia, Pocopson, Prospect Park, Quakertown, Ridley Park, Royersford, Sharon Hill ,Spring City, Springfield, Swarthmore, Trevose, Thorndale, Thornton, Unionville, Upper Darby, Uwchland, Valley Forge, Villanova, Wallingford, Wayne, Warrington, Washington Crossing, West Chester, Westtown, Woodlyn, Wynnewood and Yardley