Geoprobe® - Truck Mounted Soil and Groundwater Sampling
Complete with the ruggedness and power of standard Geoprobe® machines but transferable from one carrier to another, the Geoprobe® Model 540O is a hydraulically powered soil probing unit equipped with a 5.5-gallon (21 liter) gasoline tank, 14-gallon (53 liter) hydraulic oil reservoir, and integral hydraulic oil cooler. It requires no auxiliary power during probing operations. It features hydraulic lateral swing for easy placement of the probe over the work area. This workhorse DPT unit offers a broad range of usability features including: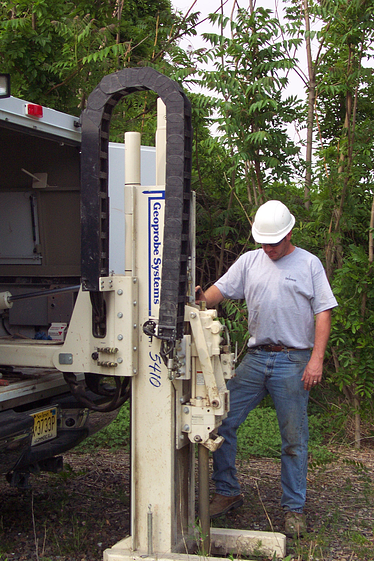 Model 5400 Features
Supplies a full 25,000-pounds (111kN) of push and pull.
A large 54-inch (1372 mm) hammer stroke.
Equipped with a workhorse GH-40 Soil Probing Hammer.
Rod grip pull back
Concrete cutting capabilities
Hydraulic tilt for angle probing
Unit is hydraulically powered from vehicle engine.
Curren supplies each carrier vehicle with a depth to water meter and peristaltic pump as standard field equipment. An oil interface probe, AquaCheck Four Way Meter and MiniRea Photoionization Detector (PID) can be included upon request.
Request a Geoprobe Quote