Mosquito Remediation is
Mosquito Control
Mosquitoes are the uninvited guest that can ruin your outdoor time. Our mosquito remediation service will help you reclaim your yard by professionally managing the mosquitoes. Mosquito remediation, also called mosquito control will remove mosquitoes from your yard.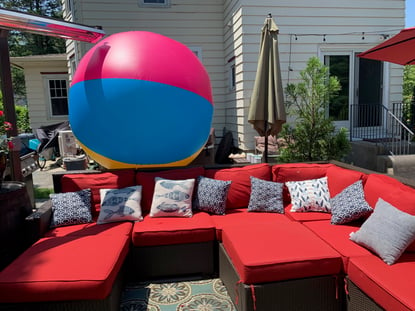 Our service will dispatch a trained technician to your yard, assess the area for mosquito breeding areas and apply a mosquito battier spray to the yard that will have a same day drop in the mosquito population and leave a micro encapsulated barrier to prevent future infestation for up to 21 days.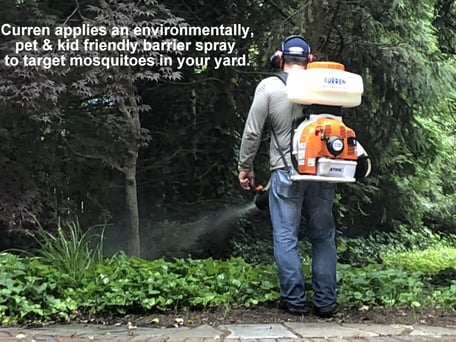 The Mosquito Control Process


We evaluate each site individually to search out mosquito breeding areas. We apply our mosquito spray to these areas.

A barrier spray is precisely applied using tuned application equipment. Our barrier spray application is engineered for maximum results throughout the mosquito life cycle.

Barrier spray contains a ultra-low dose of an EPA approved insecticide (1/8th of a teaspoon for the average property). The spray provides a quick knockdown of mosquitoes.

The barrier spray is applied with a surfactant (soap) to allow the spray to adhere to foliage and landing zones.

When mosquitoes enter your yard to feed on the foliage, they will encounter our Barrier Spray.* Did you know both male and female mosquitoes suck on the nectar of plants for energy? Mosquitoes also like to stay cool during the heat of the days and typically only feed (consume a blood meal) in the evening. During the day, mosquitoes can be found where your yard is the coolest (out of direct sunlight). It is these areas where we apply the barrier spray.

We apply the barrier to fences and foundations which are Mosquito Rest Stops. You see mosquitoes take breaks from flights and will land to rest on fences and foundations in their hunt for blood (meaning you).

Before remediation you will be notified of our application date, immediately after remediation you will be provided a written notification that your yard has been remediated and according to your schedule, we will return approximately every 21 days to reapply.

Our renewal rate is nearly 100% We know once you hire Curren you will be satisfied.
Why Curren Mosquito Remediation?
We have completed thousands upon thousands of applications. and have over 20 Years' experience. We employ company personnel and utilize in-house equipment for our services, which allows a lower cost overhead and a better quality of service for our clients. We are not burdened by franchise fees, so our cost of service is lower than franchised firms.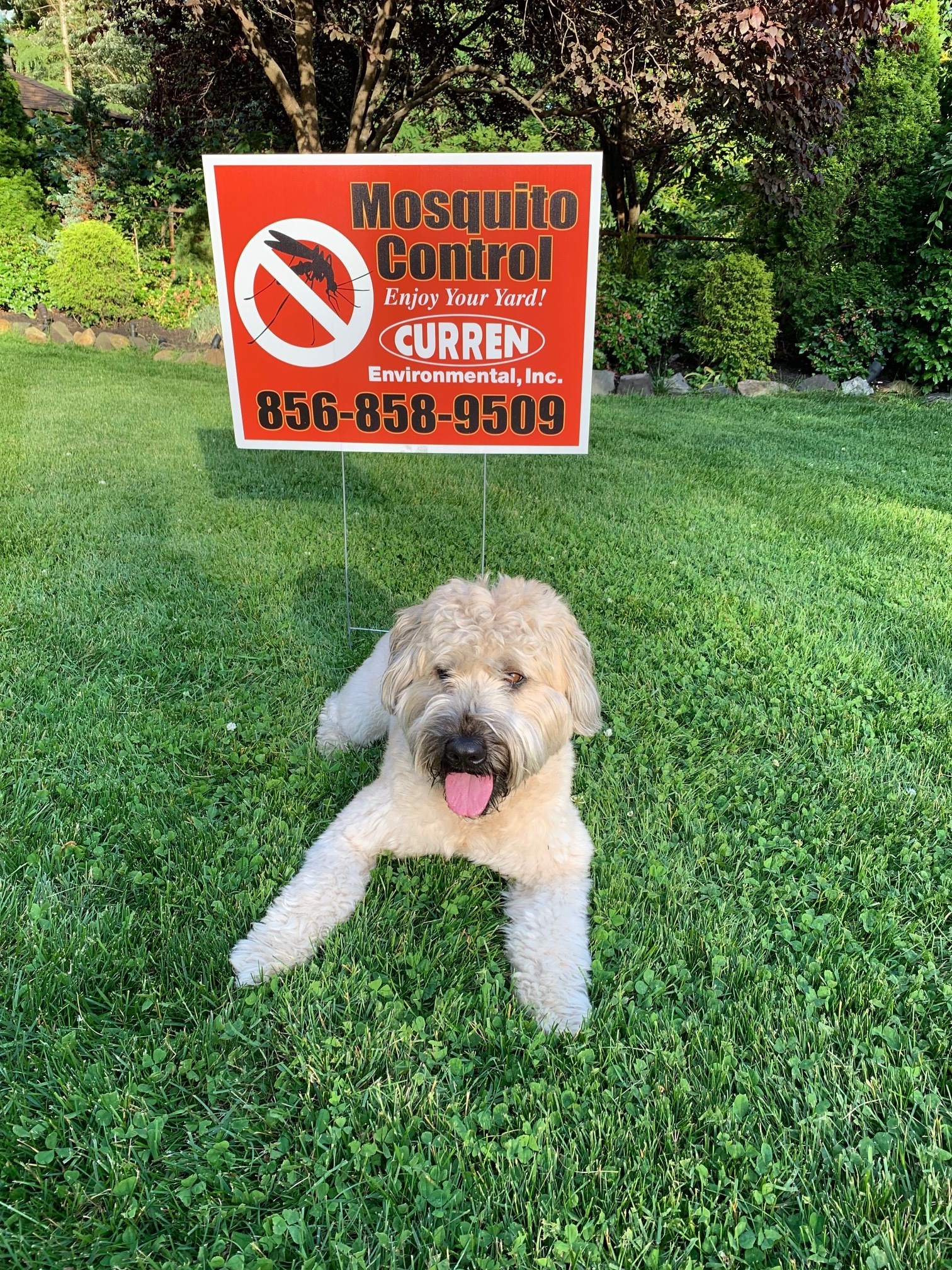 Best Mosquito Control Service bar none.
We are environmental professionals and have studied mosquito control to ensure effective and safe treatment of your yard. We work for the environment 365 days a year because we remediate more than mosquitoes. Unlike companies that have a franchise or want an add on service to lawn care, we solve complex environmental issues that extend well beyond just mosquitoes. What that means to our clients is you get the brain power of an environmental consulting firm with over 100 tire fleet on the road.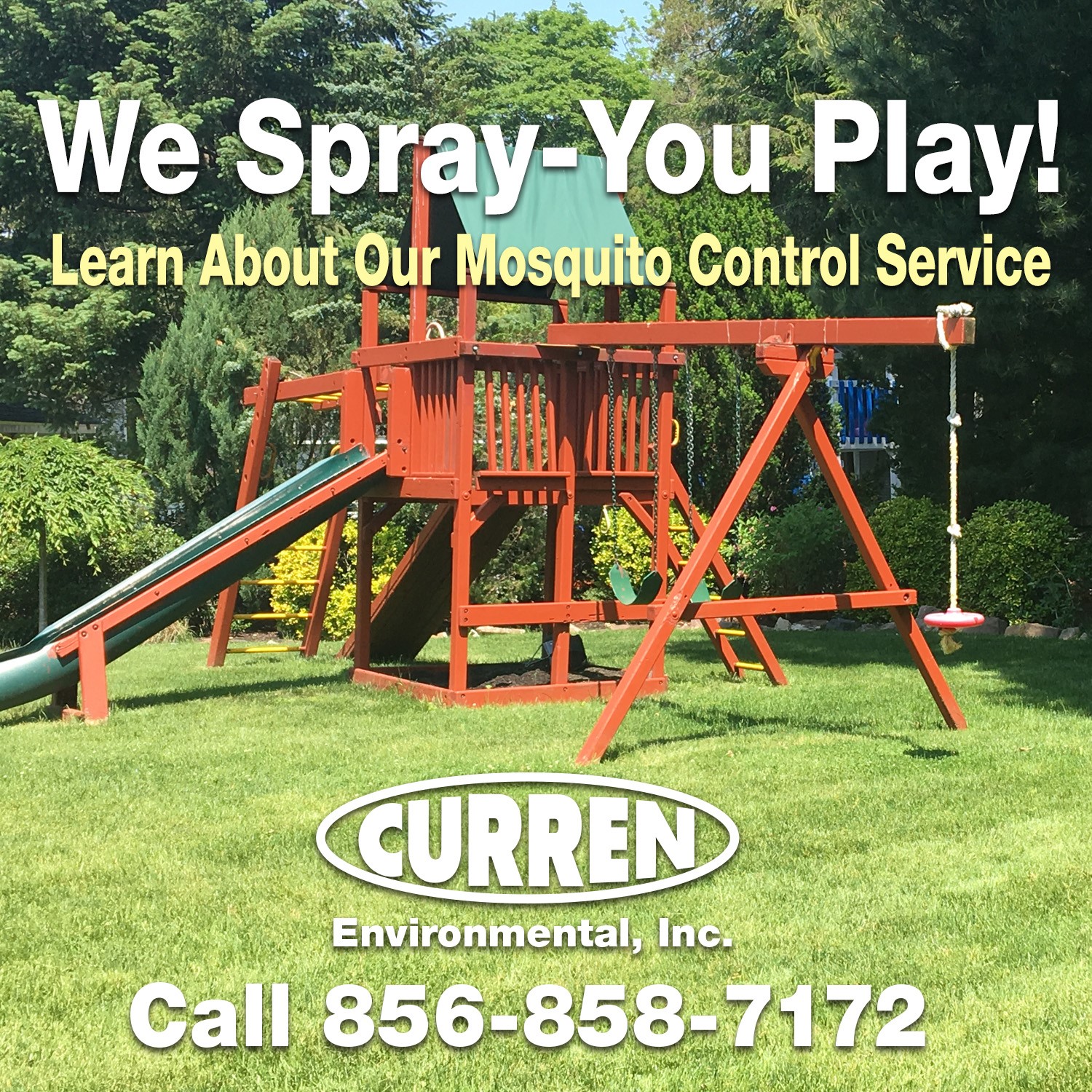 Our application targets both male and female mosquitoes, by removing critical components of the reproduction cycle, you naturally reduce the population.
Better to treat the yard than apply chemical to your person. You can tailor the service to your needs while the best results are when the service is applied for an entire season (like lawn care, mosquito management requires consistent attention) you can also get one-time event sprays for parties or for multiple week packages such as 6, 9 or 12 weeks.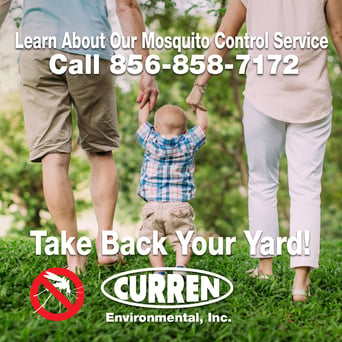 Don't you just want to sit outside and not be bitten?
Every year mother nature invites mosquitoes to your yard. Mosquitoes are never a welcome guest to any outdoor activity, but there are steps you can take to stop the biting all season long. First, be aware the female mosquito is the only one that bites. Males don't bite, Go Figure. Female mosquitoes need blood meals to lay eggs, each person she extracts blood from increases the probability that a mosquito borne virus can be transferred to the next victim.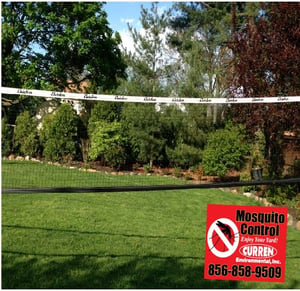 Mosquitoes come out at night and hide during the day because it is too hot for them. We treat your yard during the day and we treat cool shaded areas where the mosquitoes are hiding in the day.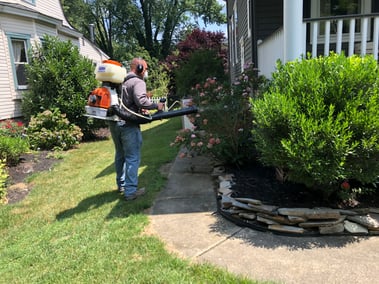 Mosquitoes bite as part of the reproduction process which is why it is hard to stop mother nature once female mosquitoes inhabit your yard. There are some DIY and commercial services that can help you take control of mosquitoes.
Mosquitoes need water (a bottle cap of water is enough to allow mosquitoes to breed), so you must actively manage water on your property. Your gutters must be clean to allow water to flow and not stagnate. Plastic corrugated gutter extensions should be thrown away as they trap water. Flower pots, recycling cans, ANYTHING that can capture rain water must be dumped daily or moved indoors. Removing breeding areas decreases the mosquito population in a given area.
Now some mosquitoes can fly for miles with a little breeze so even if you manage water, it is possible that a mosquito can fly into your yard. Fans, citronella candles, sprays, all these approaches do is mask your scent so mosquitoes can't find you. But with mother nature, where there is a will there is a way. Remember blood is necessary for mosquito reproduction, so odds are if you are outside and a female mosquito is in the area you will be found. Mosquito senses are tuned for locating perfect hosts. From surprisingly far distances away mosquitoes can detect carbon dioxide from our breath and triggers their visual system to seek out high contrast objects for inspection. Up close, mosquitoes detect odor, temperature, and sweat. Alcohol is also believed to be a scent a mosquito can detect. In short if you go outside, they will come.
If mosquitoes are driving you indoors, you may want to consider a mosquito control service. Mosquito control services provide a level of mosquito control that is beyond the expertise of the average homeowner. Mosquito control services like lawn services treat your property to knockout the mosquito population.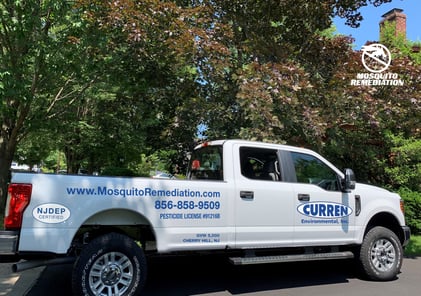 Mosquito remediation removes (same day results) mosquitoes in your yard. Imagine being outside and not getting eaten alive by mosquitoes.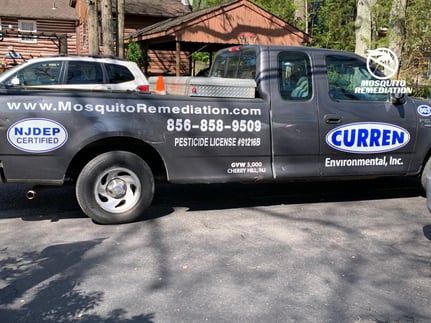 Mosquito remediation is also referred to as mosquito control or mosquito removal. Mosquito control is based on science and disrupts the life cycle of mosquitoes on your property. Our mosquito control services removed the current population of mosquitoes in your yard and provides a residual barrier treatment that inhibits future populations of mosquitoes from your yard. We have clients who never see a mosquito all summer long. Throw away the chemicals you spray on your person and call our office.
Effective Mosquito Control
All mosquito control technicians are trained and licensed, they like to be called mosquito remediation professional). We precisely and professionally apply a quick drying barrier spray to rid your yards of mosquitoes. Results are same day. We attack areas where mosquitoes are known to inhabit such as bushes, foliage, shrubs, under decks, below sheds and other cool moist shaded areas. We apply where the sun doesn't shine.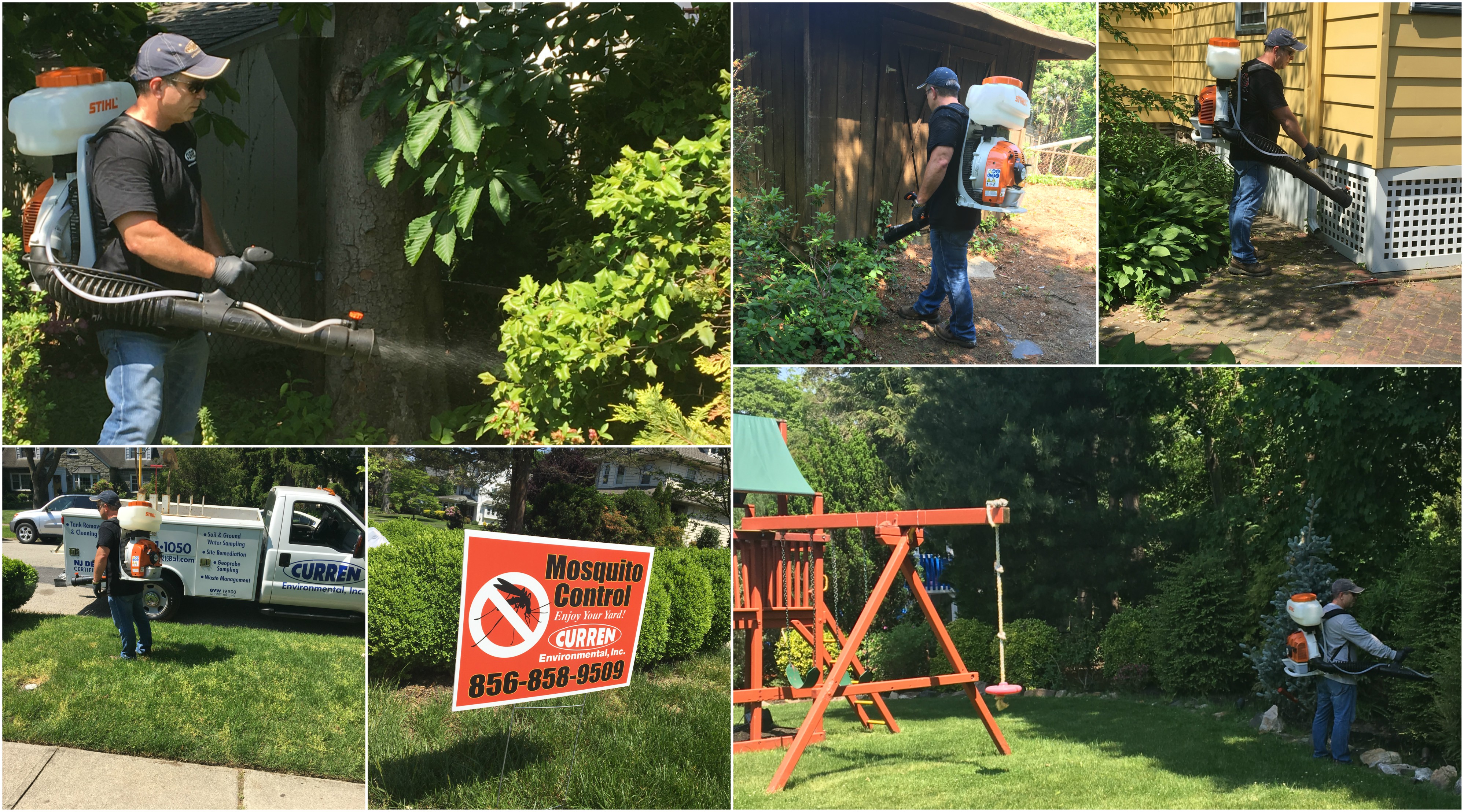 We take a scientific approach to mosquito control.
The science you have used to ward off mosquitoes is different than our science, which is why mosquito remediation is so effective.
We think like a mosquito. Yes, that phrase sounds funny, but it is true. Mosquitoes are tiny. Heat and direct sunlight will dry them out and kill them, which is why we scratch our heads when we see firms spray lawns, that is not where mosquitoes live, hence we think like a mosquito. We understand the four-stage life cycle of a mosquito, where they live when they are not biting you and where they will be. We use our understanding of mosquito control to remediate your yard of mosquitoes.
Mosquito Control Facts
It is important to say that mosquito remediation is not a 100% solution. It is also called mosquito reduction for a reason. There is a guaranteed reduction in mosquitoes after application. If you ever see a mosquito after treatment, thank your neighbor or better yet give them our number.

There is no way to prevent every mosquito from coming into your yard, as mosquitoes have a fly with a range of ½ a mile and some species can travel several miles.

We have found that when multiple neighbors utilize the service, mosquito populations drop significantly.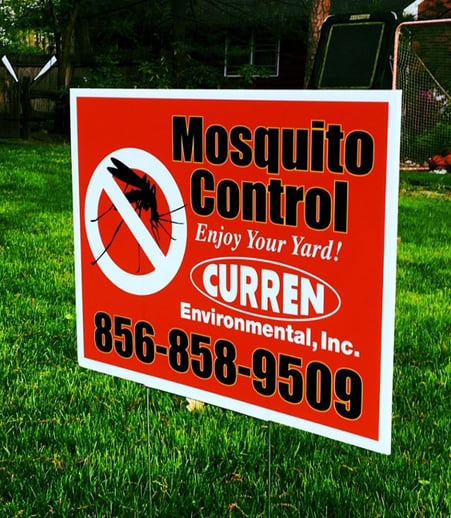 All you could possibly want to know about mosquitoes can be found in Curren's Mosquito FAQ.
"What if I'm the only house utilizing mosquito remediation? Will your service still be effective?"
Yes, Mosquito remediation can work in a single yard as it will knock down the immediate mosquito population and reduce the population of mosquitoes that may enter your yard from a neighbor. Remember that you need a male and female mosquito to reproduce (yes - kind of like the birds and the bees). Our barrier spray targets both male and females, reducing the immediate head count of mosquitoes as well as eliminating potential future mating, hey it takes two to tango.
We spray where mosquitoes live during the day, which is under sheds, below decks, in shrubs and bushes where it is cool. If a mosquito were to sit in the mid-day sun.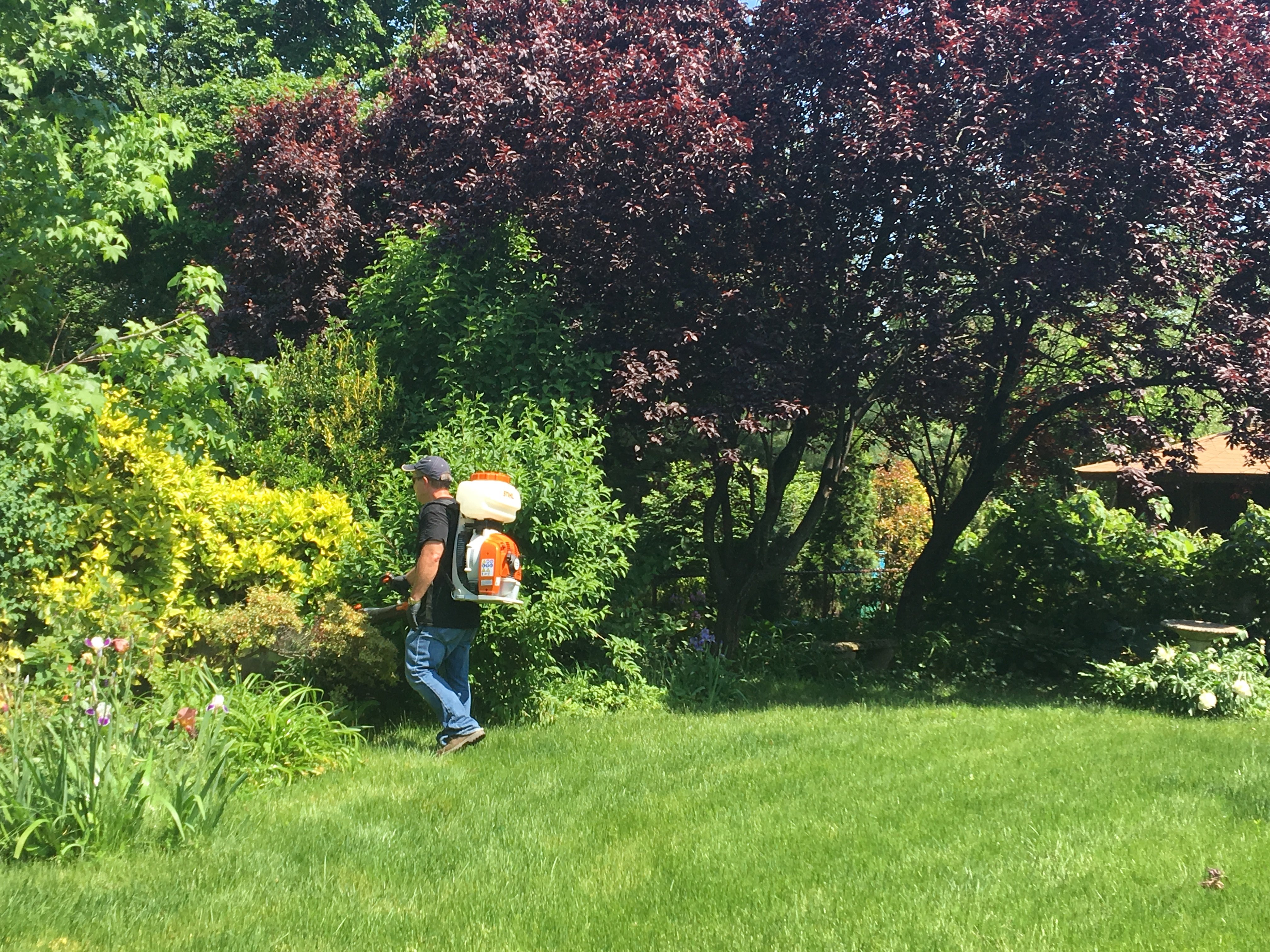 Testimonial Customer 2020 Season
We used Curren Environmental for their mosquito services after seeing several of their yards signs throughout our neighborhood and hearing the positive feedback from those neighbors.

We use our backyard patio a lot in the summer, and we have quite a bit of landscaping (as well as neighbors with what could be best described as "problem areas" for bugs). So we have a pretty solid breeding ground for mosquitoes and other flying bugs.

The past few summers have become unbearable on most nights, and we figured that, worst case, this type of service would cut back on the mosquitoes and maybe make it more livable on the patio.

We can honestly say, that this was one of the best decisions we made, and the results were INSTANT. After the first spray, the mosquitoes were GONE from the backyard, and it stayed that way right up to the next spraying. We have the disadvantage of having untreated properties around us, but that has so far, not been a factor (other than an occasional "stray" .
More information can be found on our FAQ Page.
Affordable Mosquito Control
The cost for mosquito control can average around $70.00 for 21 days. Pricing is based on yard size and length of mosquito service. Discounts come into effect the longer the duration of the service, meaning seasonal mosquito control package realize a savings from one or two application packages.
Mosquito control is important to your health and enjoyment of the outdoors. Mosquitoes are a nuisance and a health threat (mosquitoes are a known vector of disease). Mosquito control allows you to reduce the mosquito population in your yard.
Mosquito Control, Mosquito Remediation & Mosquito Removal Services in the following locations: Audubon Barrington, Bellmawr, Berlin, Beverly, , Blackwood, Bordentown, , Camden, Carneys Point, Cedar Brook, Chatsworth, Cherry Hill, Cinnaminson, Clarksboro, Clayton, Clementon, Collingswood, Cologne, Columbus, Corbin City, Delanco, Delran, Dennisville, Deptford, Eastampton Township, Egg Harbor City, Egg Harbor Township, Elmer, Elwood, Erial, Ewan, Florence, Franklinville Galloway, Gibbsboro, Gibbstown, Glassboro, Glendora, Gloucester City, Goshen, Green Creek, Grenloch, Haddon Heights, Haddonfield, Hainesport, Hamilton, Hammonton, Harrisonville, Laurel Springs, Lawnside, Linwood, Longport, Lumberton, Magnolia, Mantua, Maple Shade, Marlton, Mays Landing, Medford, Medford Lakes, Merchantville, Mickleton, Moorestown, Mount Ephraim, Mount Holly, Mount Laurel, Mount Royal, Mullica Hill, National Park, Oaklyn, Palmyra, Paulsboro, Pedricktown, Pennsville, Pine Hill, Pitman, Richland Richwood, de, Riverside, Riverton Roebling, Runnemede, Salem, Seaville, Sewell, Sicklerville, Somerdale, Somers Point, South Dennis, South Seaville, Southampton, Stone Harbor, Stratford, Swedesboro, Thorofare, Trenton, Tuckerton, Turnersville, Ventnor City, Villas, Vineland, Voorhees, Washington Township, Waterford Works, Wenonah, West Berlin, West Deptford, Westville, Whitesboro, Williamstown, , Willingboro Winslow Township. Woodbine, Woodbury Heights, Woodstown and Woolwich Township.