Foam Insulation Frequently Asked Questions (FAQ)
Next to a mortgage or car payment, utility bills are the large part of any household budget. Energy reduction by installing foam insulation will pay dividends in lower energy bills and overall comfort. The only three things that you can count on happening are Death, taxes and high energy bills. If you are interested in retrofitting an existing home and are considering foam insulation call today. Below we have listed some of the most common questions regarding open cell foam insulation.
Q: My energy bills are high, I doubt I have any or much insulation in the walls, how do I find out what insulation is in my walls?
A: Inspect easy to see areas like the basement, crawl space and attic areas. Inspect where the wall meets the foundation or roofline, look to see if you see any insulation.
The harder areas are actually looking into walls. You can inspect a wall, destructively by going into a closet that has an outside wall and making a small home. Many people will pull off the trim and access the wall through the trim. This way, if your wall patch is not pretty, it will be hidden by putting the trim back. Another wall inspection method is via an outlet.
Turn off the power to the outlet.

Remove the outlet cover and using a bright flashlight, peer into the crack around the outlet box. You should be able to see if there is insulation in the wall and what type.

Pull out a small amount of insulation if needed to help determine the type of insulation.

Check outlets on all floors as well as old and new parts of your house. Just because you find insulation in one wall doesn't mean that it's everywhere in the house.

Inspect and measure the thickness (inches) of any insulation in the unfinished basement ceilings and walls, or above in crawlspaces.

Some neighbors have a similar constructed home to your own, it does not hurt to ask a neighbor what insulation they have in their home, it MAY be the same as yours.

Lastly, the homebuilder (if one can be found) or the original homeowner, might be able to tell you what insulation is present.
Q: Can foam insulation be installed from the exterior or exterior?
A: Foam insulation can be installed from either the outside or inside. Either way, holes must be drilled in the wall cavity to inject the foam.
Q: What is the foam insulation made of?
A: The foam has three primary ingredients, one being air, two a resin, and three a foaming agent (catalyst). We call it ARC for short (Air Resin Catalyst). When the three components meet at the time of injection, foam is made.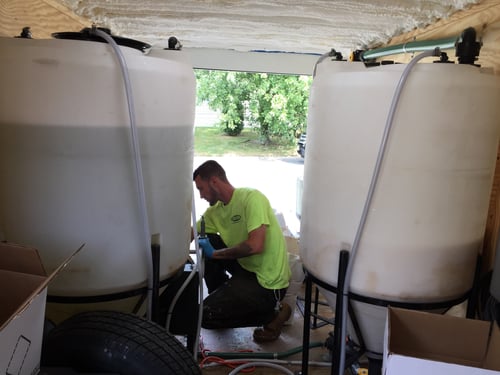 Q: What is the R-value of open cell foam insulation?
A: The R-value of foam depends on the thickness of the wall. A 2" wall will have a lower R-value than a 6" wall. It varies depending on the size of the cavity. Generally speaking, a 3.5" wall can achieve an R-Value of 14, a 5.5" wall an R-Value of 22. These are based on 16CFR460 using ASHRAE fundamental calculations.
Q: Why use open cell foam insulation and not blown-in insulation?
A: Blown-in insulation is typically cellulose, shredded blue jeans or other material that can be placed with air into a wall. Blown-in insulation can and will compress over time. Moisture and gravity can and will weigh down the blown in insulation, thus over time compressing blown-in insulation and reducing the effectiveness of the insulation. Foam is one and done, it will easily flow to voids, fill them. Foam is virtually non shrinking.
Q:How long is a typical insulation project?
A: For a typical home, most jobs can be completed in a day. For commercial projects, including what people call big box stores, insulation can take up to a week.
Q: Do you need water and electric to apply foam insulation?
A: Our enclosed insulated foam trailers are self-powered, but since they are mobile and are not hooked up to water, a water source is required. We can supply mobile water tanks, but the use of onsite water is the most cost effective and all projects are quoted with the assumption that water will be supplied at no cost to Curren.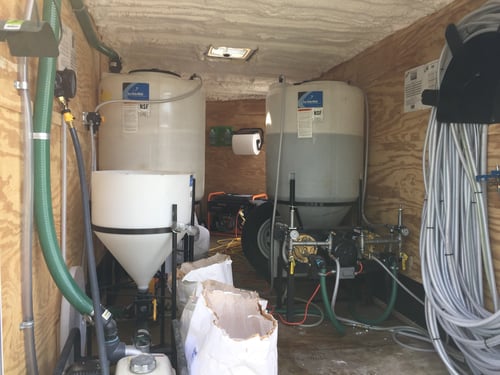 Q: What does foam insulation look and feel like?
A: New foam is white, similar to shaving cream. The foam can slightly darken over time. The foam when injected is in a state of semi-fluid consistency, which is needed in order to flow through the wall cavity and flow evenly around obstructions in the wall, including wires and plumbing. The foam will begin to dry almost immediately but fully cured foam takes between 24-28 days to cure. Once dry, it becomes firm, but will remain malleable.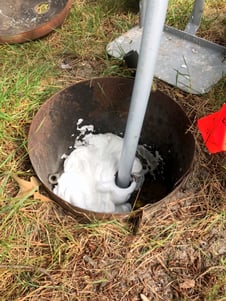 Q: Is foam insulation reactive or corrosive?
A: No, the foam insulation will not react with plastic coated cabling/wiring.
Q: Can foam insulation cause dampness?
A: No the foam insulation is hydrophobic – meaning it repels water rather than absorbing it. If subjected to water for a long period of time, such as from flooding, weather or water leaks, the foam can become water logged as it Is an open cell foam.
Q: Will the foam shrink and deteriorate over time?
A: To a small degree, some initial shrinkage is normal but studies show that the foam will maintain its physical and insulation properties.
Q:Can foam insulation be applied to walls that have fiberglass installed?
A:Older fiberglass insulated walls are candidates for foam insulation; the foam will compress the existing insulation.
Q: Is it foam insulation flammable?
A: No the foam insulation has a Class 1 fire/flame retardant.
Q: Does it open cell foam contain formaldehyde?
A: No
Q: Is foam insulation environmentally safe?
A: Yes. It's environmentally friendly. It's non-toxic, odor free. Water and air are components of the foam, which makes it very safe.
Q: OK, so the foam has water in it, will the foam cause mold?
A: Mold needs organic material and consistent moisture to grow, as well as 48 to 72 hours of moisture to start to grow. The foam starts curing upon injection and will dry out before mold would be expected to grow on any wet surface. As added protection, there are mold-inhibiting compounds in the foam to help ensure that mold will not grow. The partially open-cell nature of the foam means the insulation dries out quickly. Once dry, RetroFoam™ resists re-absorption of water.
Q: How is it known when the cavity is full of foam?
A: Experience, training, timing, methodical placement of the insertion holes, and a few tricks of the trade, the crew is able to ensure a cavity is full. For practical purposes, most cavities will not be 100% filled as the cavity space can include utilities that prevent 100% application.
Q: Will you drill through/damage my siding, brick or masonry walls?
A: We will drill holes, inside or outside. We need to drill holes to inject the foam. That said we try to pull siding off across a horizontal plane and reset it. Vinyl siding is easier than aluminum siding. The goal is to leave your home as we found it, albite with invisible insulation in the walls. However you may see some differences in the siding (cosmetic) due to the siding being removed and rest. Regarding brick we try and drill along the mortar and patch with a similar color. Masonry building such as stucco are drilled and patched; repainting is typically the responsibility of the owner.
RetroFoam, which is used to describe both the foam and the process, is in essence correcting poor older building practices where little or no insulation was installed in walls. If current insulation standards were used when the structure was built, you would not need foam Insulation, so it should be expected that some visual evidence of the process can remain.
Q: How frequently spaced are the injection holes?
A: This will depend on the age and/or construction of your house, and should be discussed at the time of the estimate. Remember, if there is blown-in insulation in the walls, the install crew will drill two (2) 2 1/2" holes per cavity. On a standard install, there will be one (1) 2 1/2" hole every 16".
Q: Will the open cell foam damage my interior walls?
A: No. It is a non-expanding foam, specifically designed for retrofitting purposes. As long as there are no pre-existing cracks or areas you're concerned about, we shouldn't have any problems. We ask that the inside of the house be accessible to our crew during the foaming process. That way we can monitor the interior of your home in case a problem arises. The crew member on the inside can communicate with the foam installer. It is important for you to identify any areas you are concerned about so our crew leader can review them before installing the foam. Areas of concern would be holes in the exterior walls being foamed, such utility penetrations.
Q: Will you paint my siding after the install? (Cedar/wood/composite board)
A: No. We'll apply wood filler to wood/cedar/hardboard/composite siding, but the homeowner is responsible for paint touch-ups.
Q: Will the mortar patch match the existing mortar?
A: We do our best. There may be a slight difference due to weathering, but on most homes, once the mortar patch dries the hole locations are difficult to identify.
Q: Is it safe to fill the cavity of a brick veneer home… I thought there needed to be a ventilation space between the brick and wood framework?
A: A common misconception with brick construction is that the gap between the wood stud and brick surface is there for ventilation. This is partially correct, however the primary purpose of this gap is to keep moisture traveling through the brick, which is porous, from touching the wood and sheathing. If the wood is in contact with brick, it can absorb moisture, which can cause the wood to rot. RetroFoam™ is breathable, but also repels water. The foam fills the cavity space providing a suitable thermal barrier, without transferring moisture to the wood.
Q: How do you install on a brick home?
A: By drilling ¾" holes through the T-joint in the mortar. Our trained install technicians are careful not to damage any of the brick/stone veneer. They will drill three holes per cavity; low, middle, high. They'll install the foam from the bottom up. They'll place a straw (marker) in the cavity directly above where they're foaming. When the straw moves, the cavity has been adequately filled.
Q: How large of a cavity can you fill?
A: Typically 6".
Q: Can you work on a stucco/vertical [siding] exterior?
A: ONLY from the inside. [Unless you're planning to re-side.]
Q: Do you work on new houses, meaning before sheetrock is installed?
A: No. We recommend different products for new construction.
Q: Will it seal around my windows?
A: We will fill every cavity we can access. We can drill 3/4" holes around window frames. This is usually addressed on a case-by-case basis.
Q: How long will the job take?
A: Best determined on a case-by-case basis. We finish most jobs in a single day. If it requires more time, jobs are scheduled on consecutive days.
Q: Do I have to be home?
A: It is preferable but not necessary. We do ask that our crew have access to the home, especially to monitor for problems during the foaming process. We also check outlets once the drilling is complete.
Q: How much does it cost?
A: Our pricing varies depending on the style of home, location, current insulation, and siding type. We own and operate all our own equipment, by not using subcontractors we control the quality and the cost. Each house is quoted on a case by case basis.
Q: Why should I have closed cell insulation installed in my walls?
A: The current insulation mindset is that exterior wall cavities should be insulated to reduce both heating and cooling costs as well as for occupant comfort. Remember that fiberglass insulation, which is by far the most available and popular, was invented in 1932. Many older homes have no insulation. Some older homes had blown in insulation installed which is highly ineffective and compresses over time due to moisture and gravity so walls that had blown in insulation installed, will find that while the insulation may have been placed to the top of the cavity at time of installation, that the insulation will have dropped (compressed) over time due to gravity and moisture absorption.
Q: Is foam insulation a good investment?
A: Installing any insulation is a home improvement, so yes you are investing in the home but bottom line you are improving the insulation quality of your home. You should receive dividends so to speak in lower bills and a more comfortable living space. When selling the home lower energy bills as compared to similar homes as well as a more insulated home can be selling features.
Questions? Toll Free 888-301-1050 Monday to Friday 8:00 am to 6:00 pm
Curren Environmental, Inc. (Curren) is your foam insulation expert. Servicing Atlantic, Bergen, Burlington, Camden, Cape May, Cumberland, Essex, Gloucester, Hudson, Hunterdon, Mercer, Middlesex, Monmouth, Morris, Ocean, Passaic, Salem, Somerset, Sussex, Union, and Warren Counties.