The saying we get better with age, well that relates to a foundation of knowledge based on years of experience. At Curren Environmental those that know teach, those that know, know from decades of experience thousands of sites. We do peer reviews of the work of other environmental companies every day, thousands of reviews a year. These reviews are both paper reviews (in office) as well as on site over seeing work for clients protection. Needless to say we see the good and the bad. The bad is also not always the cheapest price. Bad projects have a common thread of promising things that they cannot deliver on or to be put frankly telling the client what they want to hear, even though this may be the opposite of what other firms are saying. Key topics, don't worry about a leak, we can manage the leak if one is found, lastly we can remediate for a lump sum and we do not need any testing data (these firms have x-ray vision.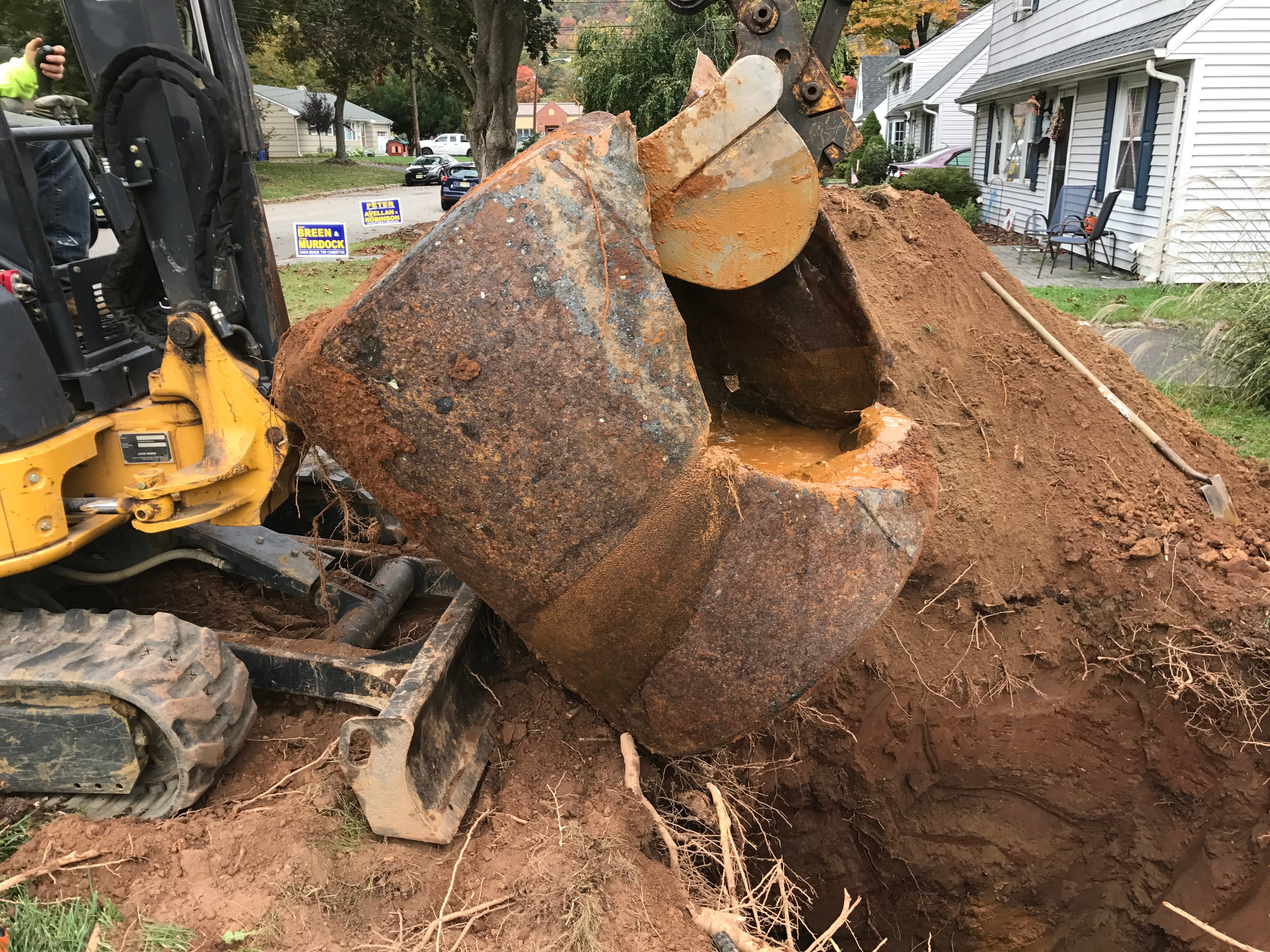 Recently I had to oversee the removal of a residential oil tank. The tank was actually found via a GPR tank sweep by Curren. The owner had no knowledge that a UST was present Tank Sweeps with GPR. Owner got a really inexpensive cost to remove, so client (buyer) wanted the removal to be overseen. Now I am not saying cheap isn't good, everyone wants a bargain, you don't want to pay full price, but you also get what you pay for. Cheapest is rarely best, its the cheapest.
The photo below shows one of the onsite projects reviewed. I knew that the person wearing gym shorts at 9 am and no shirt meant the day was going to be interesting. Let's start by saying, gym shorts and a tank top are not proper work attire. It's was a hot day so the gym short person took the tank top off, at was maybe 9:10 am. Things didn't get better from there.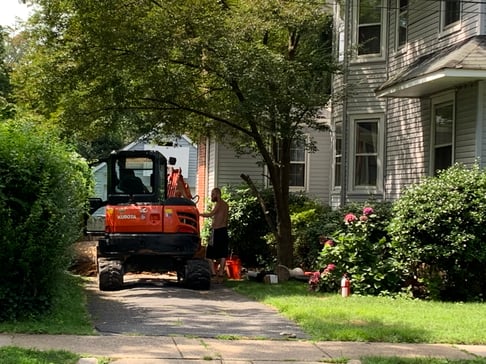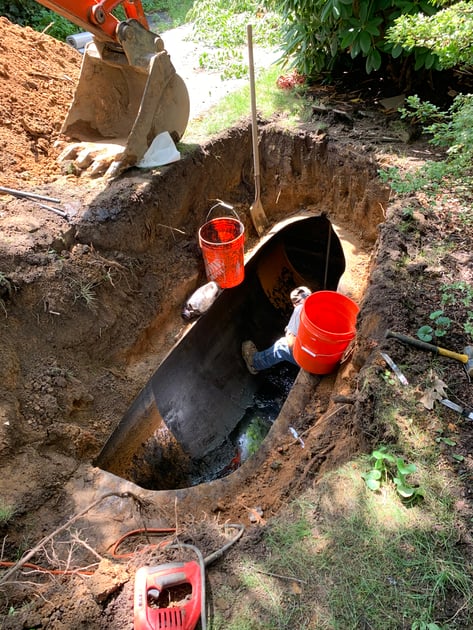 Yes that is a person inside the tank with no PPE (personnel protective equipment, respirator etc.), completely not according to regulations.
Although the company had lettered vehicles they spelled remediation wrong. If you say your do something you should be able to spell it.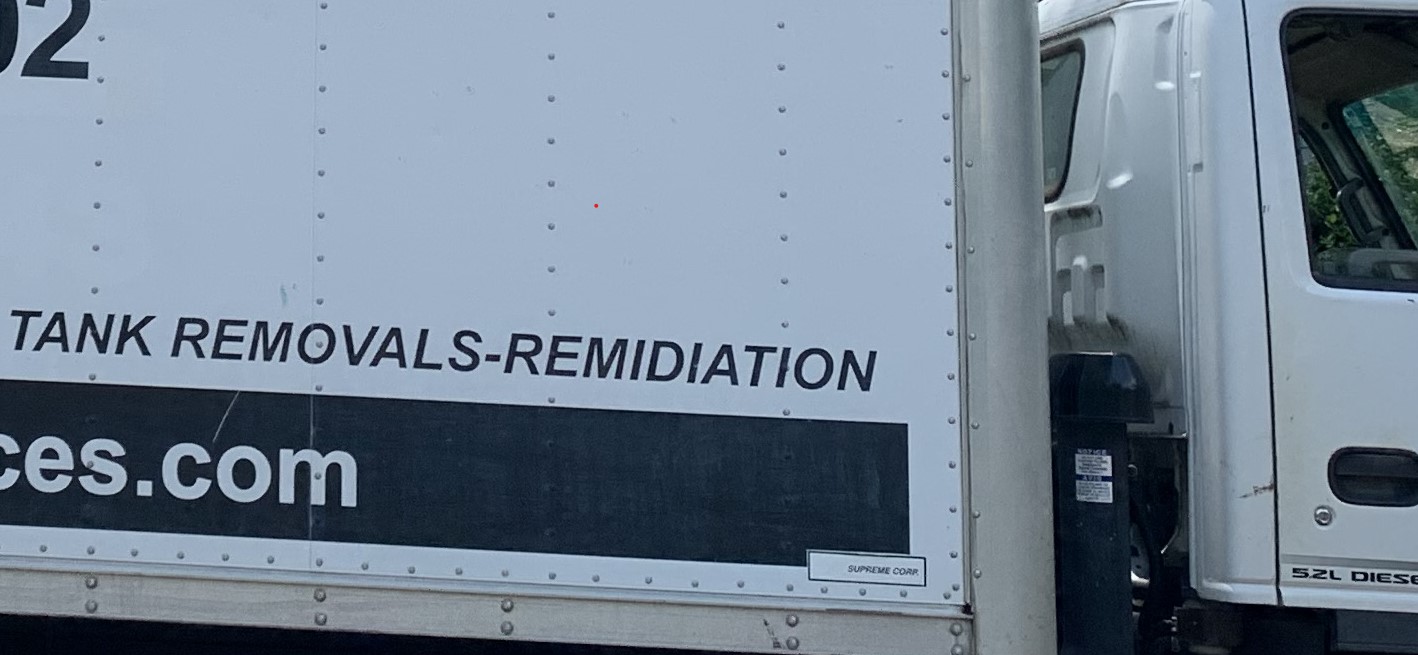 So the tank gets excavated just enough to clean it. Took them 2 hours to remove the tank after cleaning, because the tank was 80% buried. They couldn't see the logic in uncovering the tank to the 50% mark so the earth wouldn't hold it in place. Over the course of two hours, they damage the driveway, killed mature shrubs and after removal hit a sewer line that would have been avoided had they had gone into the basement to evaluate for utilities. Inspecting a basement to see where underwound utilities enter is excavation 101, utilities are not marked accurately 100% of the time, property owners may not know on where what utility is located and lastly not all utilities get marked. In any event the damage could have been avoided.
Now the good part, tank is removed and it requires two inspections. No one knew of or when that would occur. To be brief they had no inspection, took no soil samples (sampling is the only way you can 100% verify the tank did not leak) and backfilled the hole.
How do you avoid tank removal mistakes?
To be clear removing a tank is not building the international space station, but there are a slew of regulations and protocols you must follow API, OSHA, NIOSH. You can check reviews on line for sure, but here are some tips that can find out the good from the bad.
Was the person you spoke with more car salesperson than environmental consultant? You don't want to be sold into making a decision.
Did the company walk you though the steps they will follow? This is an easy one and even the bad companies do it.
Did they put their steps in writing? Again easy. There should be a report stated in writing you will receive after removal, its super important.
Did they discuss the possibility of a leak? What about if levels of oil are above standard? What are the standards? What amount of oil is permissible? Look every tank could leak so you need to know the dark side of a tank removal that leaks, this needs to be discussed and put in writing.
Is their email a Gmail or yahoo email. It might not sound like much but if a company doesn't have a hosted web site with hosted email with their domain, well you maybe buying into a Chuck in a truck.
It's tough to compare environmental services to other industries, but our office get a large share of property owners gripping about how the hired the wrong company. To be fair most people will never have to remove two tanks in their lifetime or complete two mold projects, so you are doing something once and likely won't do a good job at it.
Want expert advice and deal with professionals?