A New Jersey Lead Safe Certificate is good for 2 years but can last 3 years.
When a certificate expires, you have to have another inspection, either after two (2) years or between two (2) 2 years and three years. The New Jersey Lead safe certification is never-ending and your obligations are perpetual. The law is also very confusing, so let's clear up the biggest question people have which is how long does the lead safe certificate last?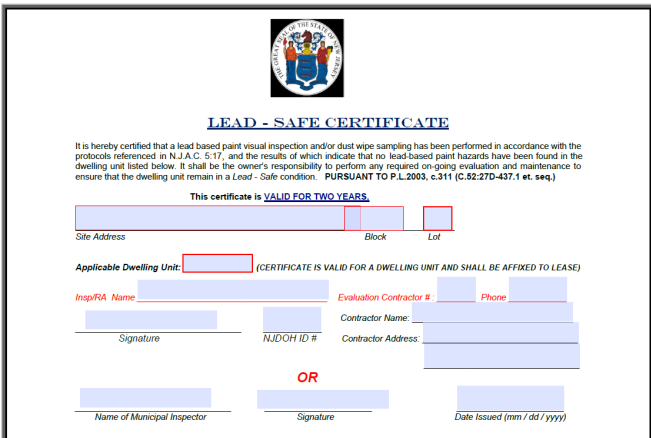 That answer is confusing as is the NJ Lead Law, so let me clarify.
A lead safe certification lasts two years.
But if you have a tenant that occupies a rental unit that has a valid (unexpired) lead safe certificate and that tenant remains a tenant past the 2-year certificate expiration, then the cert can be valid for 3 years (from date of issuance) or shorter if the tenant only stays say 6 months past the 2-year period.
Lead Safe Certification Duration Example
Let's say you have a tenant that signs a 5-year lease.
You get a lead safe cert that's good for 2 years.
The lead safe certificate will last 3 years because a tenant has occupied the unit during the initial 2 years and the law has a belief that the tenant knowing the property is lead safe would notify the landlord if it became unsafe. This carnal knowledge so to speak allows the cert to last 3 years.
Now at the 3-year mark, you must get a reinspection, even if the tenant is staying. The longest anyone can go without another lead inspection is 3 years.
Following this example, when this dream tenant who has signed a 5-year lease leaves at year 5, you must get another inspection.
Lead Questions? Call The Lead Experts,
856-858-9509