What you should know about removing an oil tank.
Since the northeast part of the United States was part of the original Thirteen American Colonies we have a longer history of oil heat than other parts of the country. You can find oil heat in homes that were built before the mid 1980's going to 1900. If you have a house circa 1800's or the early 1900's there is almost 100% certainty that oil heat was utilized at some point. Heating oil was stored in either aboveground storage tanks (ASTs) or underground storage tanks (USTs) for heating homes, and other commercial applications. Nearly 100% of oil tanks were constructed with steel, fiberglass wasn't even considered for commercial use until the 1970's and even then commercial use was limited and residential was near nonexistent. Rust never sleeps and all steel will corrode over time, buried tanks will corrode faster than aboveground tanks, thinner tanks faster than thicker tanks. The reduction of sulfur from heating oil to help with clean air actually increases biological activity in a tank and this bacteria can crease corrosive byproducts which can actually corrode a tank from the inside.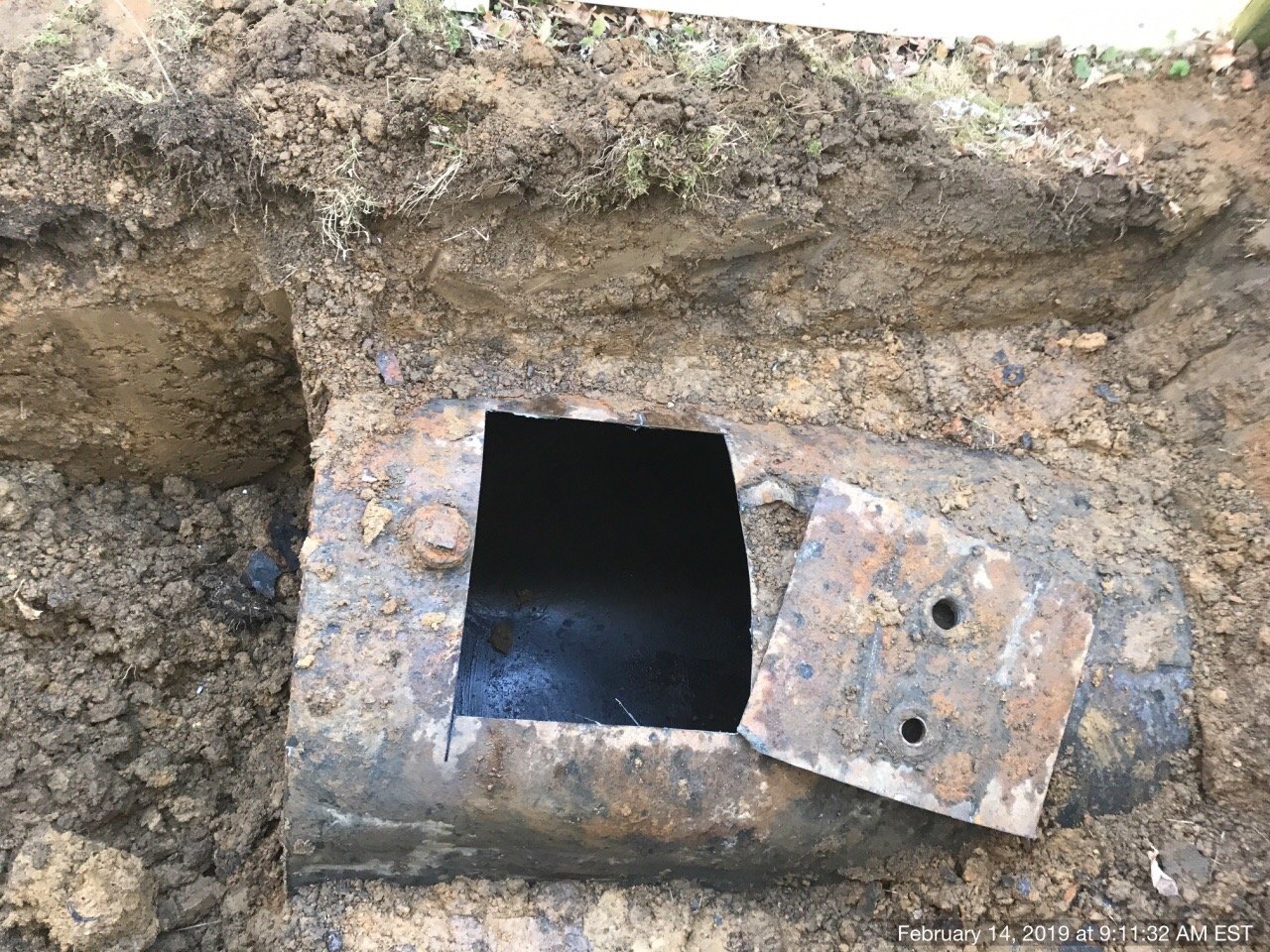 It has been estimated that almost 100% of the buried oil tanks have exceeded their reasonable life span and should be replaced. (The average warranty on a new tank is 20 years, a great roof has 40 year shingles, so you do the math). How long does an oil tank last? The number for ASTs nearing retirement is closer to 50% as many of the AST are newer, having replaced older USTs. Oil tanks are rarely ever replaced and almost never with another UST. If a UST was replaced with an AST it was probably because there were issues with the UST taking on water or losing product. To put tank age in perspective:
Home Built in 1980 = 39 year old tank
Home Built in 1970 = 49 year old tank
Home Built in 1960 = 59 year old tank
Home Built in 1950 = 69 year old tank
Compare tank life span to common wear and tear items:
Roof shingles last 20 to 40 years
Hot water heater 20 years on average
What you should know about removing an oil tank is that there is a possibility that the tank leaked and any buyer of the property will want testing performed at time of removal to document that the tank didn't leak. In short, do not buy a property that had an underground oil tank removed without a report documenting the removal and associated soil testing.
Common questions we get asked about buying a home with an oil tank:
Would I buy a house that:
Had oil tank removed with no soil testing or report, no.
Tank removed, owner has a page of lab day, no report, no.
Tank was filled in place with sand, no soil testing, no.
House has an in use underground oil tank, no
If you want to know why no was the answer to each question, call our office and speak to a professional 856-858-9509.
For a property owner removing an oil tank, when they speak to firms concerning oil tank removal the possibilities of a leak and necessary soil testing should be discussed and put in writing as leaking tanks can spiral projects costs into the tens of thousands of dollars. I say this as we get calls from people who had a tank removed and they feel a bait and switch occurred. They never discussed the tank leaking, hired the cheapest company and after removal the company pointed out the smallest hole in the tank to owner and construction inspector to ensure they tank fails inspection. What followed next was a $10,000.00 estimate for remediation, that's when our office gets called.
What you should know about removing an oil tank is it is a very complicated process, in particular in New Jersey. In August of 2018 NJDEP revised regulations requiring 5 soil samples to be obtained from an oil tank that is removed and evidence of a leak is noted. NJDEP Oil Tank Regulations August 2019 Our office has yet to see any tank removal proposal since August that references these new regulations and the required soil testing. I know this as we get THE CALL from unhappy tank removal clients and the contracts they signed for tank removal are vague and ignore the steps you have to take if the tank leaks.
Why do NJDEP regulations require you to take five soil samples when a tank leaks? The soil samples are meant to thoroughly evaluate the tank excavation for oil levels. You see rather than assume the tank leak requires remediation, the NJDEP wants you to test each sidewall and the bottom of the excavation, this allows you to make an informed decision as there are a couple possible outcomes from an oil tank leak, here are a few:
Oil tank leaks you acquire the five post removal soil samples all samples have oil but nothing above permissible limits. No remediation, financial disaster avoided, although you do have to pay for the testing, NJDEP report and the $400.00 review fee.
Of the five soil samples acquired one is above permissible limits. This is good and bad news. Bad news you have to remediate, good news you know WHERE you have to remediate.
Tank leaks and you take no soil samples. You assume all good as you have no testing data saying you exceed; tank firm assumes all bad and remediation required since they have no testing data saying all good. The rub here is you the tank removal client is not supposed to know all the ins and outs of the regulations, which were not discussed with you prior o removal. Even if your oil tank has a 1% of leaking, is it not important the scenario of a tank leak be explained in writing to you? If the answer is no, don't read any further.
Curren Environmental has been performing tank removal for over 20 years, in New Jersey, Pennsylvania and Delaware. Our office will take the time to discuss your project answering all you questions and discussing the good and the bad. A common statement we tell clients is we tell you what you don't want to hear, meaning we discuss the downsides meaning the leaking tank situations so you are at the least aware of the possibilities. When you receive a written scope of work from Curren what was discussed is in writing including soil sampling cost and NJDEP reporting if required. If you want a professional opinion, a professional tank removal and most important a professional report documenting the tank removal, call our office.