So here's the story...a hired tank removal company was found on the first page of Google, they had the cheapest price. A tank was found to have a hole after it was removed from the ground. No evidence of oil contamination was present in the soil, meaning staining or odors of petroleum in the tank grave. Due to the hole the NJDEP hotline was called and a case number was obtained. Removal company acquired one soil sample for laboratory analysis, which was found to have a level of ND (Non Detect). After removal, client was billed almost double the quoted amount and then told they would have to spend another $3,600.00 to close out the called in NJDEP case number, even though the tank did not leak (Soil sample was non detect).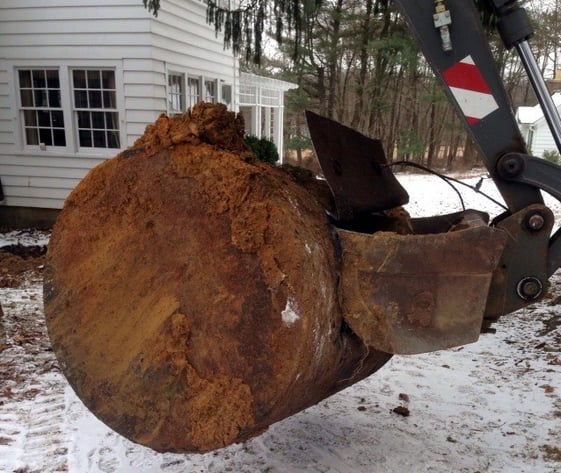 This was the story that was explained to our office. Curren reviewed the removal contract, soil laboratory test results and the subsequent proposal for $3,600.00 to do additional testing. It was at this point that it was clear to Curren Environmental that the property owner did not have to do anything and was being taken advantage of.
The property owner hired a removal company without doing the proper research and inturn getting taken advantage of - these are the mistakes the owner made:
Owner went with cheapest price, which is really getting what you paid for. When you compared the quotes there was a difference between the hired company's cost and the next one. We often see these low cost quotes try to make up the difference by selling additional services that are not typically warranted. Keep in mind a tank removal is perhaps a once in a life time decision.
The tank removal contract had no reference of taking any soil samples after removal, even though there was a chance the tank may have been found to be leaking.
Going back to item 2, there was no explanation regarding if testing was performed what would constitute a good or bad results. Results of Non Detect (ND) requires no further testing.
The contract did not include any report. If you were buying a property that had a tank removed, wouldn't you want a report about the removal?
In this case, the soil test was clean and the tank company said more testing was required, the owner was confused as to why more testing was necessary. Curren thought it possible that a case number was obtained due to a hole in the tank, which may not have discharged any oil as the hole may have not fully appeared until AFTER removal from the ground. It is confusing that if the tank leaked that your soil sample is clean.
We asked the owner to question the need for further testing, their response was as follows:
Unfortunately NJDEP regulations state that if there are holes in a tank then a case number is required. Even if contamination is not found in the ground, the potential for contamination is cause for a case number.
Soil samples for closure are required to be collected by a NJDEP licensed subsurface evaluator. Once the samples are collected and returned from the laboratory, a report can be generated to close out the case number.
We cannot provide any letter stating there is no contamination or closeout the case with NJDEP without the required samples that must be collected by a NJDEP subsurface evaluator.
The only time sampling is not required is if the tank passed inspection and was not considered a leaking tank.
Their response is misleading. Yes a hole in a tank can be cause to report a spill, but if you acquire a soil sample and it is clean, you have proven that the hole did not create a discharge to the environment. The NJDEP can be contacted and explained to that the spill reported was in error. This is what was ultimately done with Curren's assistance and no further monies were spent.
Curren explained that no testing is required by law for a tank removal and the contract clearly does not include any contingency for sampling the tank excavation after removal and what the results would mean. Testing is important to prove the tank did not leak and should have been included as an option in the quote, it was not.