Mold is a four-letter word, and it seems simple, right? Mold is indoors and outdoors, while outdoors it is needed to break down some parts of the environment, mold growth indoors can be very different. Molds are spores that grow in specific environments and can harm your health when found in abundance inside of your home. When mold grows on organic indoor surfaces, it then can become airborne mold spores.
Why do you get a Mold Inspection?
A mold inspection is requested when mold growth is suspected. Mold growth is suspected when you either see a difference in color on an organic surface, or there is an odor coming from a room or area. Mold is also suspected if there is a leak somewhere on the interior of a property that was not properly fixed or fixed within 72 hours of the leak.
Mold Inspections are also requested during real estate transactions. During the home inspection, the home inspector may notice a "mold-like substance", "discoloration" or "an odor that smells like mold growth". Many home inspectors do not do mold testing, nor mold reporting and refer the buyer to have a mold inspection.
How is a Mold Inspection performed?
Mold inspectors differ in the way they provide mold inspections. An experienced mold inspector would walk the outside of the property and look at the grading towards and away from the building/home. The mold inspector would look for signs of water intrusion that would come from the outside of the property.
After the exterior of the property is thoroughly examined the mold inspection moves to the interior of the property. Once on the inside the area of concern is inspected. The area of concern would be certain rooms, rooms or it may be the entire property.
Once inside the property, the visual mold inspection looks for certain clues for mold such as discoloration, smell, and insects. Yes, insects seem to be around areas where mold growth is present due to the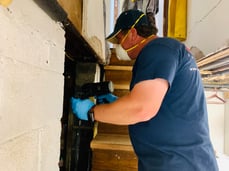 moisture. If requested, or suggested mold testing is done. Mold testing is done either by surface sampling an area where mold seems visual and is questioned, or when there is a finish area and there is a foul smell and there are no visual signs of mold and if someone is curious as to what type of mold spores are airborne.
Mold Testing
There are different ways to test for mold. Curren Environmental provides two types of mold testing, surface, and airborne testing. There are take-home tests that use petri dishes, and some other mold inspectors use a swab sample.
Mold Surface samples are acquired by placing the piece of glass tape side to the area of concern. The sample area is photographed and then placed into a container. That sample is taken to a laboratory where the mold spores are inspected under a microscope for mold spores.
Mold air sampling is acquired by using a small container, the size of a shot glass, and placed on a tripod at breathing height in the center of the room.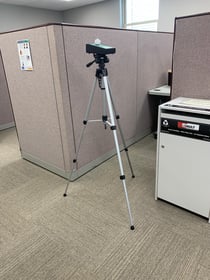 A photograph of the sample area is acquired prior to starting the mold sample. The sample can be acquired for five minutes or ten minutes. Depending on the debris that is in that certain room, industry-standard most likely uses the five-minute sample (75 liters).
Photographing the area where the mold sample was acquired is a must, if this is not represented in the mold report, you will not understand where the mold growth is and where it is coming from. Also, from a mold remediation standpoint, you will not know how to quote mold remediation without photographs.
What is mold lab data, and do you read it?
Mold lab data is acquired after samples are dropped off at the lab of choice. Once the mold samples are looked at by the lab, lab data is generated. This lab data states the type of mold spore and the amount of mold spores.
Many mold inspectors only include lab data and say that is the mold report – it is not, it is just that mold lab data. You are not expected to read mold lab data and figure out where the mold is, how much mold you have, and why you have mold from lab data. For example, you go to the doctor to get blood work. You see your lab data first, the lab data says you have high cholesterol, so you kind of freak out. Once you speak to the doctor, your doctor says no, that it is not high because you do not have these other three underlying issues. So, you were incorrect, which is what we see with people reading lab data.
Mold will be in your house at some level, there are no mold-free homes. There are spore types that are extremely related to health issues and others that are not. It is not for you to figure out, but for your mold inspector to report and relate to you.
What does a Mold Inspection Report Detail?
Mold Inspection reports are not lab data from EMSL or EMLab or any other lab. A mold inspection is a detailed representation of the mold inspection that occurred on the property on the day of the inspection.
What should the mold inspection include?
Photos, more photos & more photos
Reporting on where the inspection took place.
What was done at the inspection, such as Infrared, Air Testing, Surface Testing, etc.
Whether or not mold exists.
If mold exists, where is the leak/moisture problem?
What and where the testing occurred, with clear photos of the actual acquired sample area.
Discussion on the lab data, and what the lab data means in the perspective of mold growth and airborne mold spores on the property.
If there is mold growth, recommendations for removal.
Mold reporting after the mold inspection paints a clear picture of what mold is to your property. Where the mold is, where it is coming from, and how to fix the water problem and the mold issue.
Mold Peer Review
A mold peer review is just that, reviewing the information that was given to you from another mold inspection. Usually, mold peer reviews are done because the mold inspector or person who took the samples can't give a clear answer as to whether there is mold growth or airborne spores in the property. Peer reviews typically ask for the lab data, any photos, the inspection report (if any), and the reason for the mold inspection. Many reasons for mold inspections are due to a driver such as a real estate transaction or health issues, rental properties, or when leaks and environmental issues occur, and the homeowner is asking for the home inspection.
Mold Remediation based on Lab Data
Mold remediation is the removal of mold.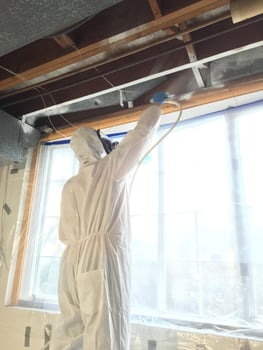 Mold remediation is based on different factors pertaining to mold at a property. To prepare a mold remediation quote the following is required/needed:
Area of concern
Size of area
Is there sheetrock?
Is containment needed?
Is the area accessible?
Many more questions and depend on the property itself.
When it comes down to it Mold Remediation is HEPA vacuuming, cleaning, and using a fungistatic coating to keep the mold growth from coming back.
What did you pay for in your mold inspection?
An experienced mold inspector will inspect the exterior of the property, and the interior area of concern and provide feedback. Remember, as it is said with almost everything, you get what you pay for. If you want a remediation quote, you may need a mold inspection so that you don't overpay on your remediation costs…that's another topic to cover later.