Oil heat was used in the early 1900's and some properties still use oil heat today. Many properties converted to natural gas from oil. These conversions did not always address the oil tank. Hence why a sweep of a property for an oil tank is important.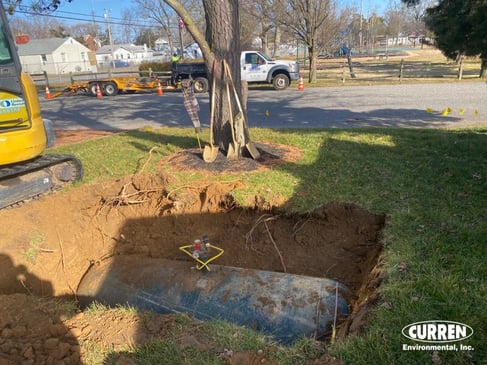 On a basic level people ordering a tank sweep will choose a company on the cheapest price not understanding the difference between a metal detector and GPR. Many businesses use a sub $1,000.00 metal detector to look for a tank. Cost for the sweep a couple hundred dollars. Pretty good margin because 4 to 5 tank sweeps can pay for the most commonly used detector.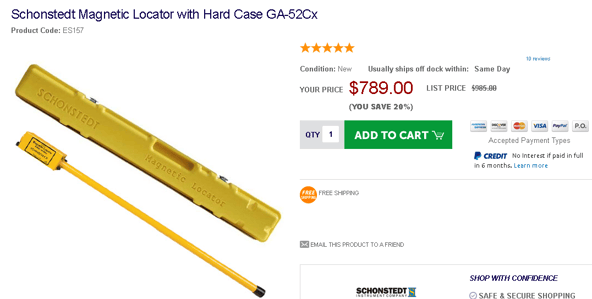 The problem is that a tank will not be the only metal on a property. There are pipes, rebar, geology, etc. and all can have metal and will make a metal detector go BEEP. A metal detector would not find this tank, because it is between a metal AC unit and a metal fence, too much metal.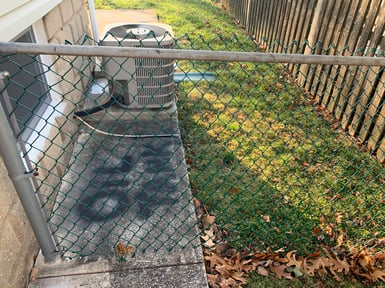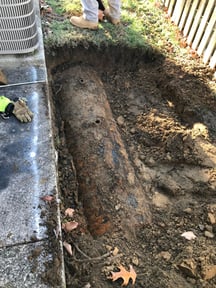 Your best tank sweep will include multiple technologies to be effective.
Fact: For commercial properties where tank sweeps are performed GPR (Ground Penetrating Radar) is the technology utilized. GPR is more expensive because it does more. Sure you can use a metal detector to verify a buried anomaly found by GPR, it's just that a metal detector can't be the only technology you rely upon. This photo is an excellent example of using multiple technologies. For the record the owner stated a tank was removed in the last year but they had no paperwork on the removal. Buyer hired Curren to perform a tank sweep. A buried tank was found via GPR. Two metal detectors ($3,500.00 worth of metal detector technology) were utilized to verify the object was metal and not a cess pool, cistern, grey water tank etc. This is important as the owner stated a tank was removed, meaning the object found COULD have been something else. It was a tank.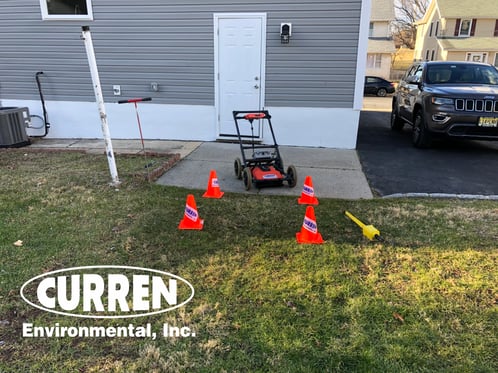 People think the best results from a tank sweep is not finding a tank.
Not true. If you have a property circa 1930 or 1960, historical oil heat is all but assured. You want to find a tank or come up with a data set proving no tank, or that a was tank removed and it did not leak.
We have been doing tank sweeps for over 20 years, we use multiple technologies to scan a property and GPR is by far the primary method relied upon. That said, our technicians have removed tanks, hundreds if not thousands so they have hands on experience with buried tank system.
When we find a tank, we can get our client costs for removal in most situations within 24 hours of finding a tank. This is important because the tank sweep is no longer a tank find project, but a tank removal project and this project needs to jump to the front of the line. We can do that because it is an existing client/project and we are well aware of the importance of addressing the tank. The same is true if we find an area where tank as removed and not tested. Now the project is soil sampling to ensure the tank didn't leak. Hey we are also environmental consultants so we are also capable of reviewing and understanding reports provided on tanks to let our clients know if the data is sufficient and when it is not sufficient, what needs to be done next.
Oil Tank Liability Fact
When an Oil Tanks leaks, they can contaminate the soil and groundwater. If the property is purchased with a leaking tank, the new buyer is responsible for all future environmental cleanup cost. Environmental cleanup costs can range from $10,000 to over $100,000 depending on how much fuel oil leaked and how far it traveled.