When you leave your home on a hot and humid day, do you turn your air conditioner up past let's say.... 78 degrees? Do you close all your windows and doors (probably yes for intruders!), and you didn't have time to close the blinds and curtains? When you return home, if you don't have the smart thermostat (more on that later), it may be a bit more hot, humid and muggier than when you left bright eyed in the morning - right? Now that is just one day, if you go on vacation for more that just that one day, do you turn your AC up or just plain off?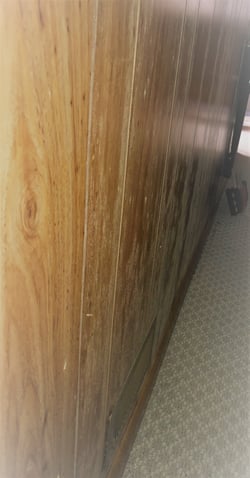 This may be something you do every day before you leave, and maybe, some days you get back later than others. Maybe, you don't come back at all that day until after dinner, or when the kids are done their activities. You just provided a prime condition for mold spores and mold growth in your home.

During these hot and humid months, Curren recommends the following to keep mold spores and mold growth out of your home:
Use your central air conditioning with a higher number MERV filter. MERV stands for Minimum Efficiency Rating Value. The higher the MERV, the better the filter will perform at removing smaller particle sizes. MERV 1 through 4 are designed to remove large particles. MERV 5 through 16 filters remove finer particles. The average particle size efficiency has three ranges: E1 (0.3 to 1 micron), E2 (1 to 3 micron) and E3 (3 to 10 micron) will determine MERV for these products. High MERV filters can help trap the mold spores that are naturally present.

Lower your indoor humidity. If your humidity is above 50 percent, then fungi will thrive. Try to keep your humidity at 35 percent.

Open doors within your home so air flow is fluent within the space.

Use your dehumidifier in your basement and crawl space. Make sure the bucket is being continually emptied, either into a sink or sump pump. The dehumidifier constantly keeps humidity lower in your home.

Keep your stove exhaust fan running when you cook, this will stop moisture from being added to the indoor air.

Always use your bathroom fan, this grabs the moisture and brings it (hopefully and not to your attic) to the outside.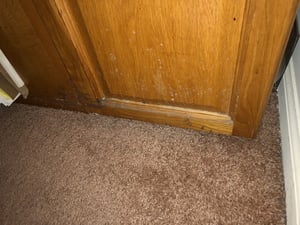 Most importantly, if you can, keep your air conditioner running at a rate that keeps the humidity down in your home, this reduces mold spore growth and keeps allergens to a minimum. Mold spores can grow in the right environment without having water intrusion, especially on organic materials such as furniture. These mold spores can in-turn become air-borne where you breathe the spores into your lungs.
Smart thermostats are Wi-Fi enabled and allow you to have multiple temperature changes throughout the day. Some can alert you when humidity is too high.
Read more on Mold Testing and Mold Remediation on Curren Environmental's website. Have questions? Fill out the form to the right and Curren will respond immediately.